Resource Center
The Transit Workforce Center is pleased to host a curated collection of publications and other materials to assist stakeholders engaged in transit workforce development. The Resource Center includes case studies, training materials, research reports, and other materials of interest, including publications produced by federal government agencies, transit organizations, and independent research entities. Resources may be filtered by topic, resource type, and transit mode.
We are continuing to update the Resource Center regularly. Please contact us via the Request Help menu option if you would like assistance using the Resource Center or are looking for resources on a particular topic. We also welcome suggestions of topics or specific resources to add.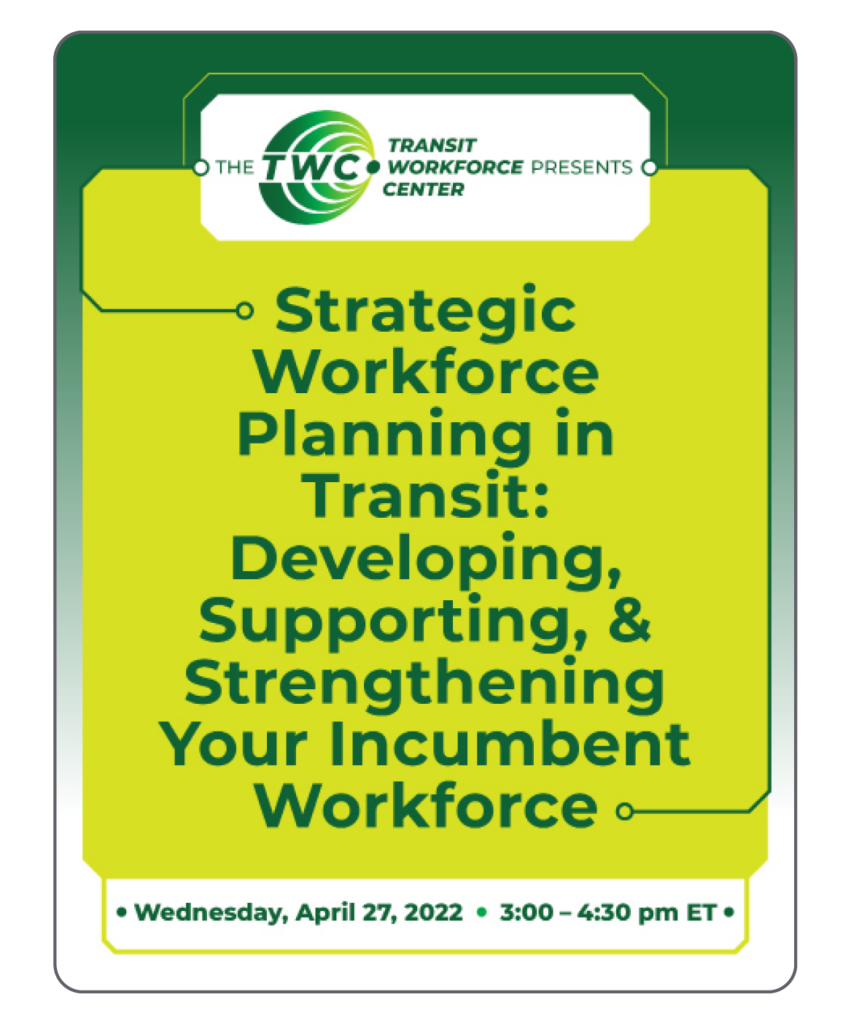 Strategic Workforce Planning in Transit: Developing, Supporting, and Strengthening Your Incumbent Workforce
This webinar, presented on April 27, 2022, explores important considerations and best practices for creating strong strategic workforce development plans.
FTA Administrator Nuria Fernandez provided opening remarks, followed by insightful workforce development guidance and case examples from leading, experienced, and insightful presentations from IndyGo (Indianapolis IN), ATU International and Local 558, SporTran (Shreveport LA), TWU Local 100- NYCTA Training and Upgrading Fund (NYC), SEPTA (Philadelphia PA), and ProgressWorx.
It is the first in a series of TWC webinars on Strategic Workforce Planning.
A video recording of the webinar and the associated slides are attached below (if you are on the main Resource Center page, click "Learn More" to view the video). Please follow the link below to view all past TWC webinars and to register for upcoming events.
Transit Workforce Center
April 2022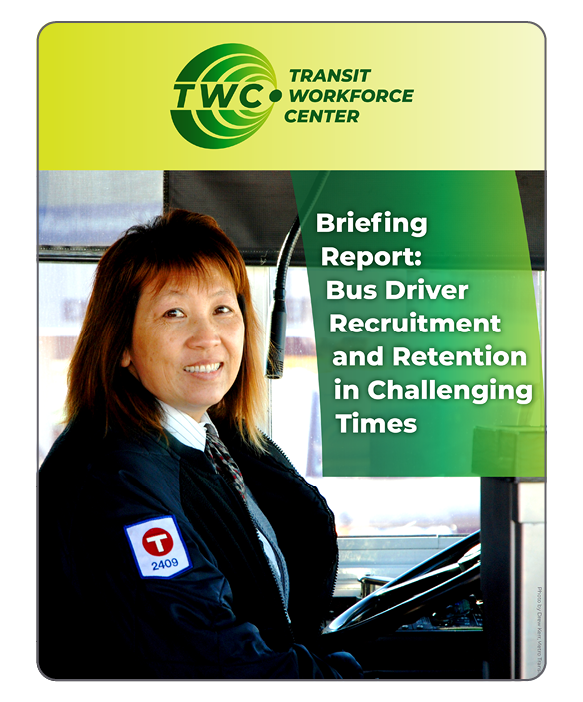 TWC Briefing Report: Bus Driver Recruitment and Retention in Challenging Times
The TWC released this brief in spring 2022 discussing challenges facing transit agencies in recruiting and retaining bus drivers.
Transit Workforce Center
April 2022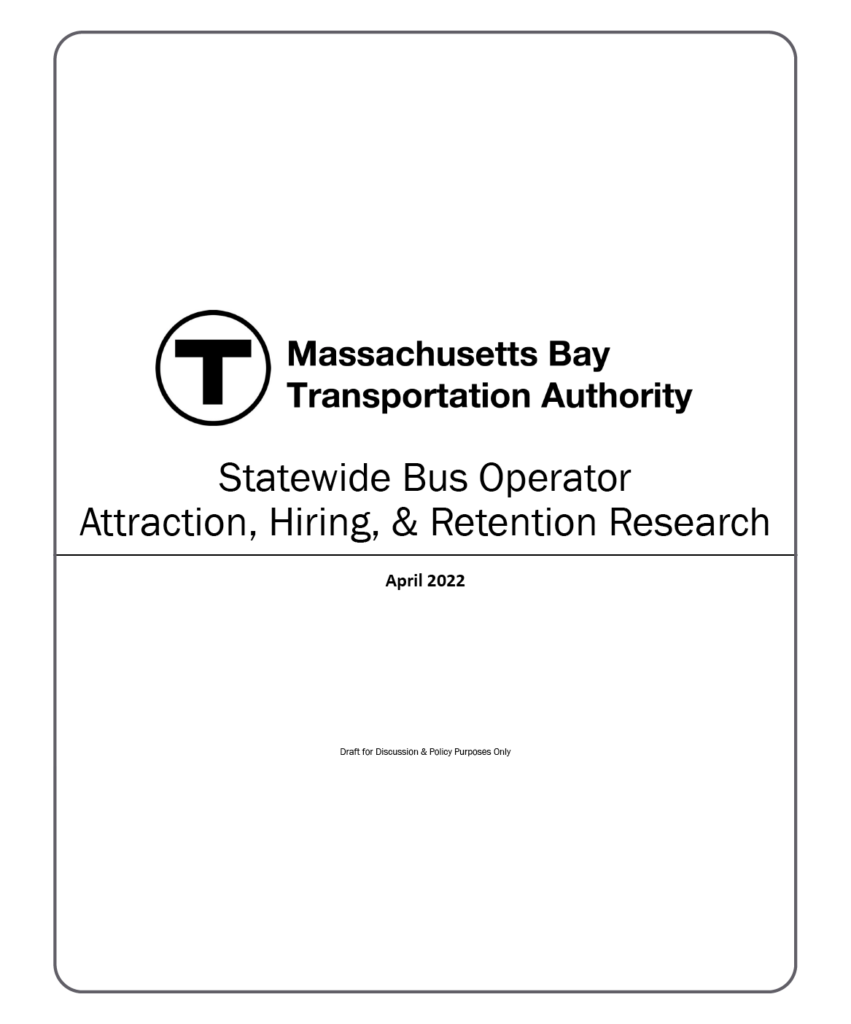 Statewide Bus Operator Attraction, Hiring, & Retention Research
These slides were used in a presentation outlining research conducted to better understand the shape and scale of the bus operator shortage in Massachusetts public transit, and the adjustments agencies are making to confront these challenges.
MBTA / MassDOT
April 2022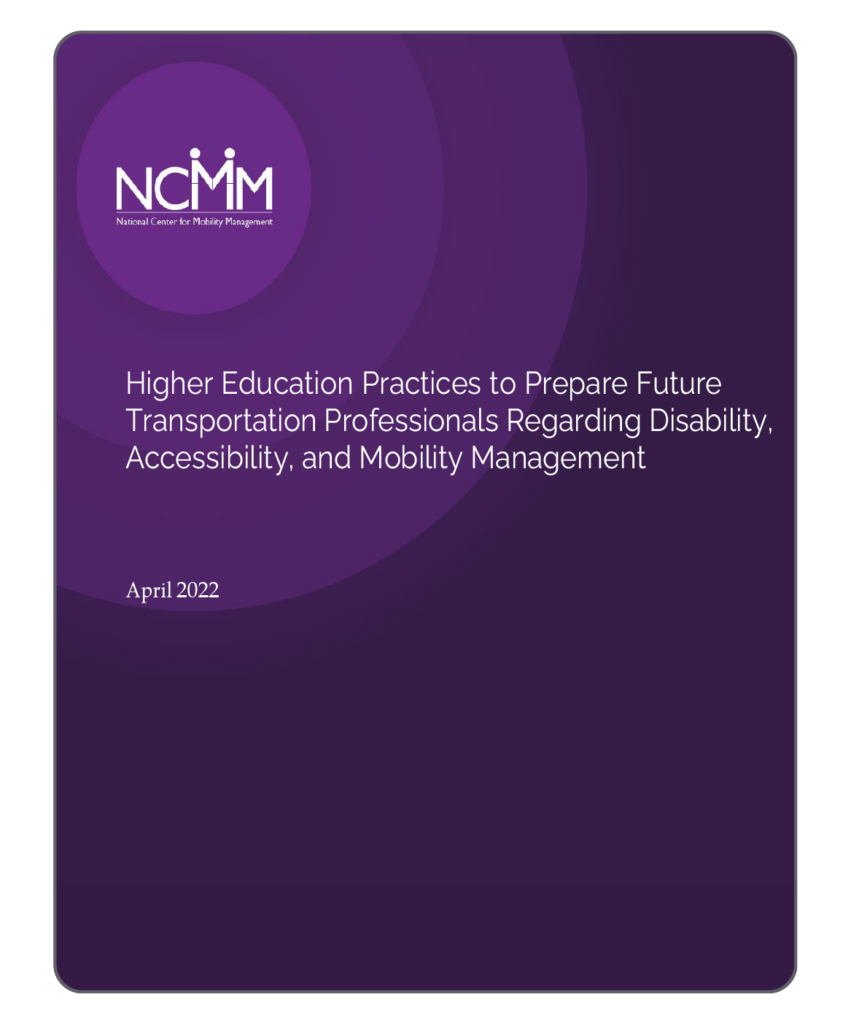 Higher Education Practices to Prepare Future Transportation Professionals Regarding Disability, Accessibility, and Mobility Management
This NCMM Information Brief, Higher Education Practices to Prepare Future Transportation Professionals Regarding Disability, Accessibility, and Mobility Management provides the results of a NCMM study regarding content in higher education preparation programs and offers recommendations regarding how to integrate disability-related content in preparation programs. The brief also includes recommendations regarding the recruitment and retention of individuals with disabilities into the transportation industry.
Please click the link below to view NCMM's Mobility Management in Practice Series; this report is one of several 2022 publications listed.
National Center for Mobility Management (NCMM)
April 2022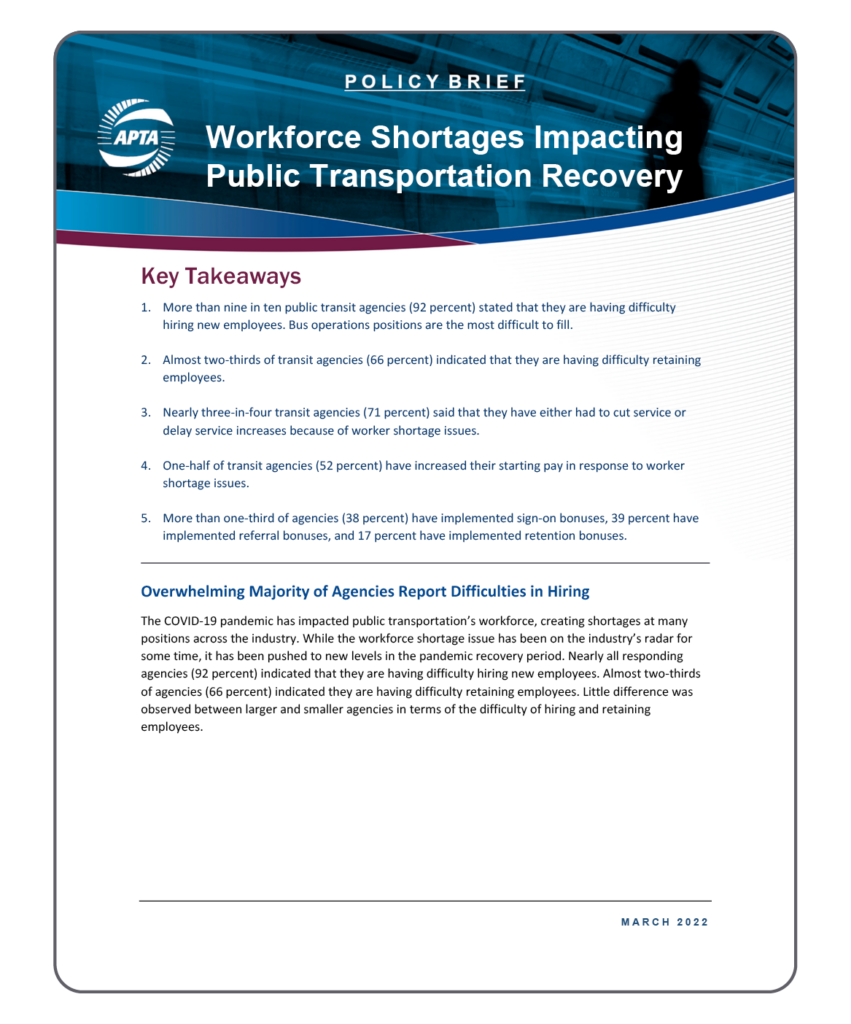 Policy Brief: Workforce Shortages Impacting Public Transportation Recovery
This recent report summarizes results from a survey APTA conducted with transit agencies in early 2022. The majority of responding agencies reported difficulties with hiring, with bus operator recruitment being the biggest challenge.
American Public Transportation Association
March 2022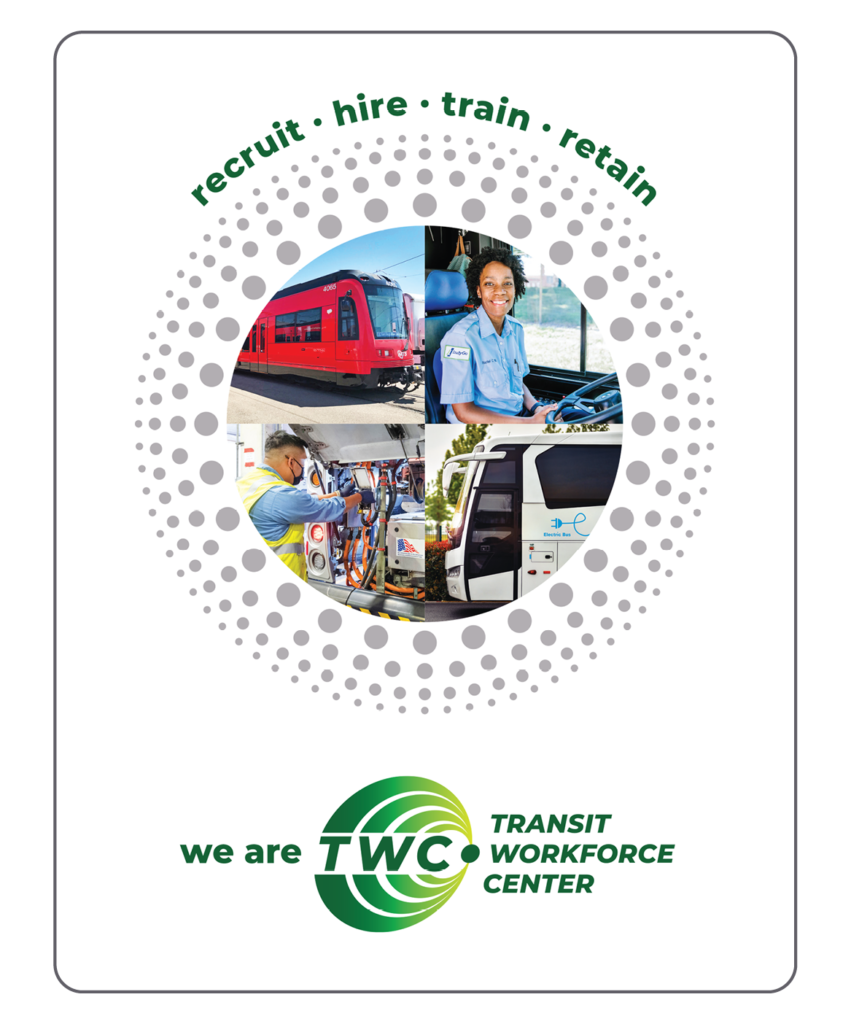 Transit Workforce Center
The Transit Workforce Center (TWC) is the Federal Transit Administration's first ever national technical assistance center for transit workforce development. Its mission is to help urban, suburban, tribal, and rural public transportation entities recruit, hire, train, and retain the diverse workforce needed now and in the future.
This fact sheet summarizes the TWC's mission, initiatives, and services.
Transit Workforce Center
March 2022
The Road to Zero Emission Buses — National Coordinated Effort to Prepare Frontline Technicians
Transitioning from work with the 12- and 24-volts electrical systems in traditional diesel and CNG buses to Zero Emissions Buses (ZEBs), with upwards of 800 volts, requires a significant commitment to additional skills training and development. The Transit Workforce Center is producing critical resources as part of a nationally coordinated effort to help prepare frontline technicians with the training needed to meet the challenges and  demands of this new technology. This document summarizes our ZEB resources.
Transit Workforce Center
March 2022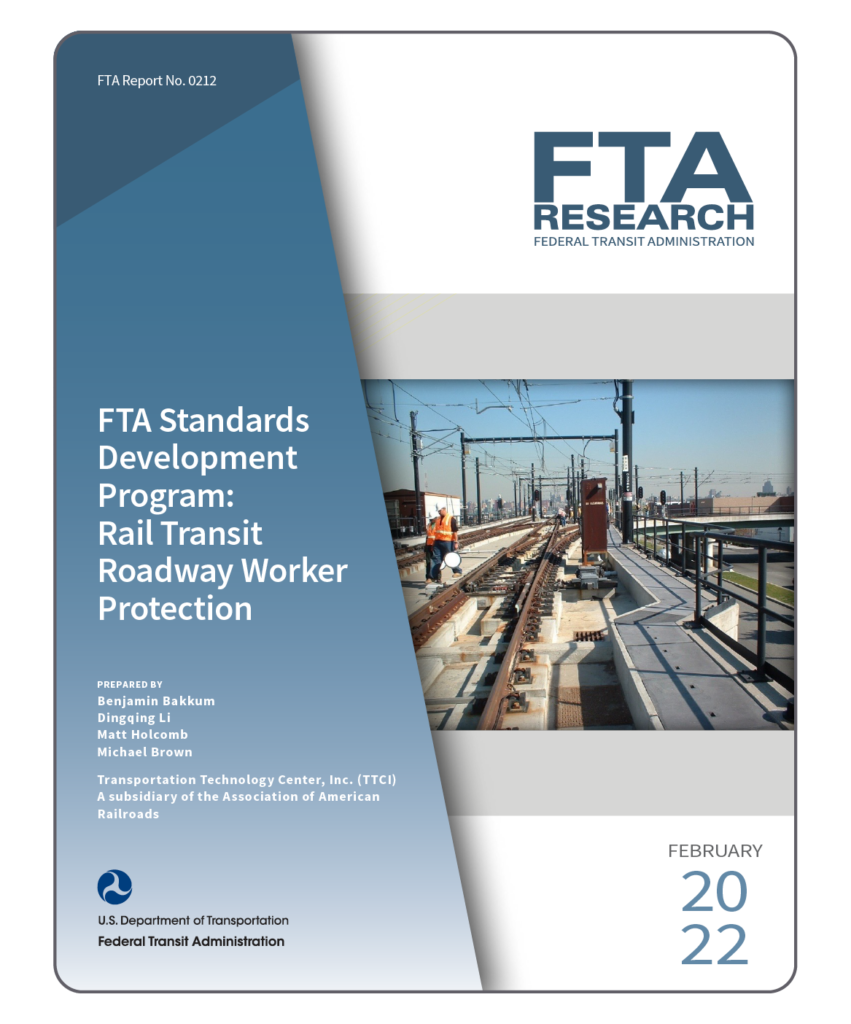 FTA Standards Development Program: Rail Transit Roadway Worker Protection (Report 0212)
This report contains research that reviewed existing standards and best practices and develops use cases, a risk assessment matrix, and high-level concepts of operations (CONOPS) for Rail Transit RWP.
Federal Transit Administration
February 2022