VIDEO: Recruiting and Developing Today's Transit Workforce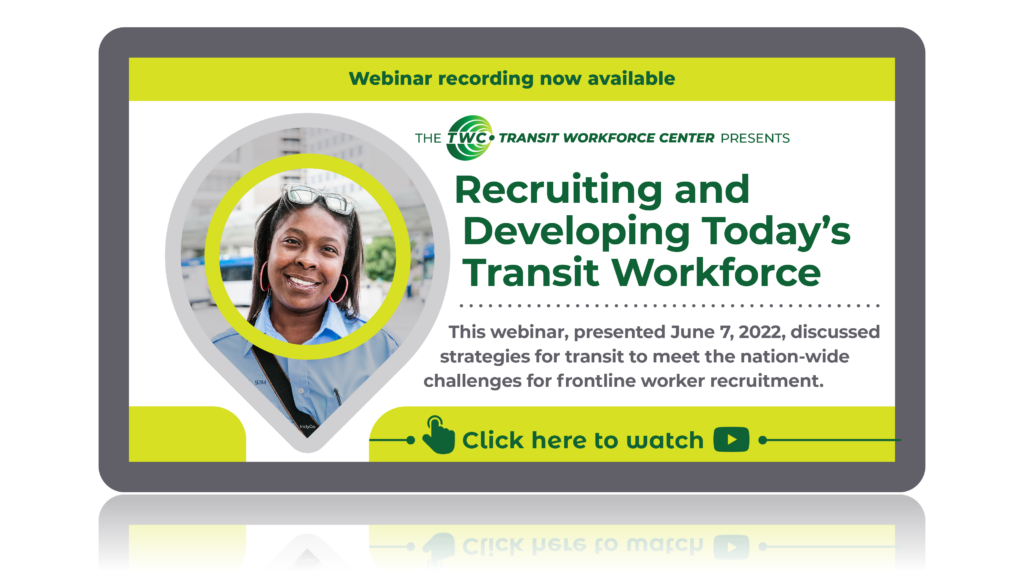 This is the second in the Transit Workforce Center's webinar series on strategic workforce development planning in transit. The TWC's first webinar examined workforce development for the incumbent workforce. This webinar focuses on how transit agencies and partner organizations are working to meet the significant recruitment challenges across the country and how to best turn these challenges into opportunities to reach, attract, and retain a diverse workforce. Two transit agencies and their labor partners will discuss their innovative outreach and recruitment programs–including mentoring, pre-apprenticeships, and community college partnerships–followed by a presentation from a national organization leader who has coordinated cross-sectoral recruitment initiatives with agencies across the U.S.
Presenters:
• Nuria Fernandez, Administrator, Federal Transit Administration.
• Mona Babauta, Deputy General Manager, Golden Gate Transit, San Francisco Bay Area CA
• Rich Diaz, Bus Operator Mentor Lead, Amalgamated Transit Union Local 1575
• Dr. Beverly Scott, Founder, Introducing Youth to American Infrastructure, Inc.; Vice-Chair, President's National Infrastructure Advisory Committee of the U. S. Department of Homeland Security
• Tracy Spikes, Workforce Development Senior Program Manager, Central Ohio Transit Authority, Columbus, Ohio
• David Stephen, Senior Communication Specialist, Transit Workforce Center
• Jarvis Williams, President, Transport Workers Union Local 208
• Xinge Wang, Deputy Director, Transit Workforce Center