News
Press Release: Resources and Best Practices for Workforce Transition to Zero Emission Buses Released by Transit Workforce Center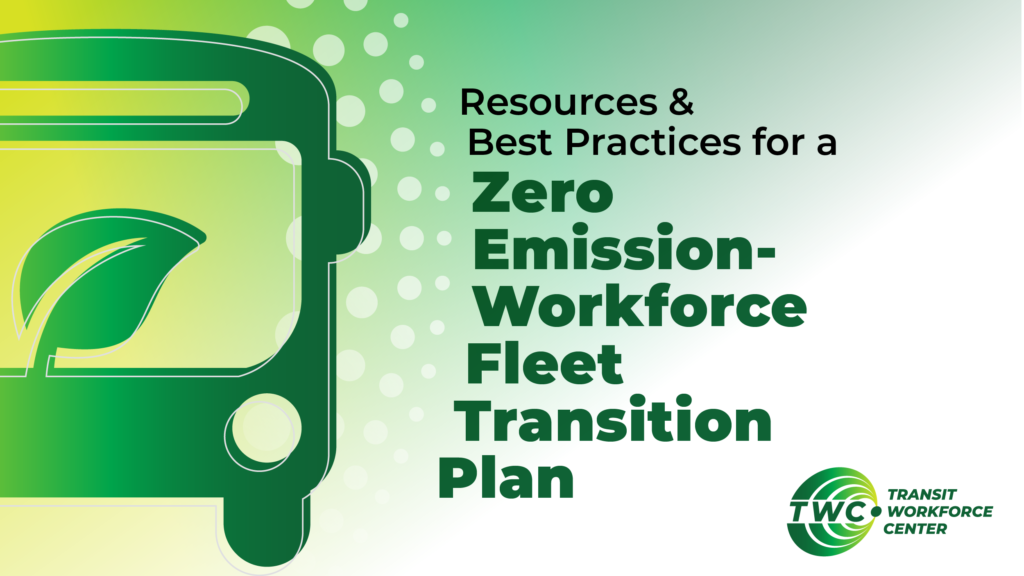 In conjunction with the Low or No Emission and Grants for Buses and Bus Facilities Competitive Programs FY2022 Notice of Funding announcement on Monday by Vice President Kamala Harris and Transportation Secretary Pete Buttigieg, the Transit Workforce Center (TWC) released the "Resources and Best Practices for a Zero Emission-Workforce Fleet Transition Plan" in partnership with the Federal Transit Administration.
Under the Bipartisan Infrastructure Law, transit agencies using the expanded Low or No Emission and Grants for Buses and Bus Facilities Competitive Program to purchase new bus equipment must submit a plan for implementing a transition to a ZEB fleet. The TWC resources and best practices go step-by-step, providing general approaches, key considerations, best practices, and helpful resources for agencies' development of workforce transition plans, optimizing the potential for success.
"With the availability of the additional funding from the federal government, we find ourselves in a rare time where agencies have the opportunity to prepare a transition with the federal government providing some of the financial resources they will need," said Jack Clark, Executive Director of International Transportation Learning Center, which administers TWC activities. "These resources are designed to support those transition plans in a functional process as they upskill their current workforce, and where new hiring is needed, create opportunities to attract to the industry young workers and people from underrepresented communities, including low-income individuals, people of color, and women."
The resources and best practices are designed to examine and address unique workforce needs while providing agencies with the building blocks to develop and implement strategic workforce development plans. They also give agencies operating with joint labor-management partnerships, such as registered apprenticeships, a head start.
"We like to call this resource tool a 'living library,' because we will regularly assess and supply additional resources on an ongoing basis," said Deputy Director Xinge Wang. "The transition to ZEBs is very exciting, but it must have a thorough and thoughtful approach to be successful. We are very happy that the TWC and FTA were able to work together to aid in making this a smoother process for agencies across the country."
The Low or No Emission and Grants for Buses and Bus Facilities Competitive Programs FY2022 Notice of Funding announcement can be accessed at: https://www.transit.dot.gov/lowno The TWC Resources and Best Practices for a Zero Emission-Workforce Fleet Transition Plan can be accessed at: https://www.transportcenter.org/zeb