Resource Center
The Transit Workforce Center is pleased to host a curated collection of publications and other materials to assist stakeholders engaged in transit workforce development. The Resource Center includes case studies, training materials, research reports, and other materials of interest, including publications produced by federal government agencies, transit organizations, and independent research entities. Resources may be filtered by topic, resource type, and transit mode. This TWC blog post explains how to use the Resource Center.
We are continuing to update the Resource Center regularly. Please contact us via the Request Help menu option if you would like assistance using the Resource Center or are looking for resources on a particular topic. We also welcome suggestions of topics or specific resources to add.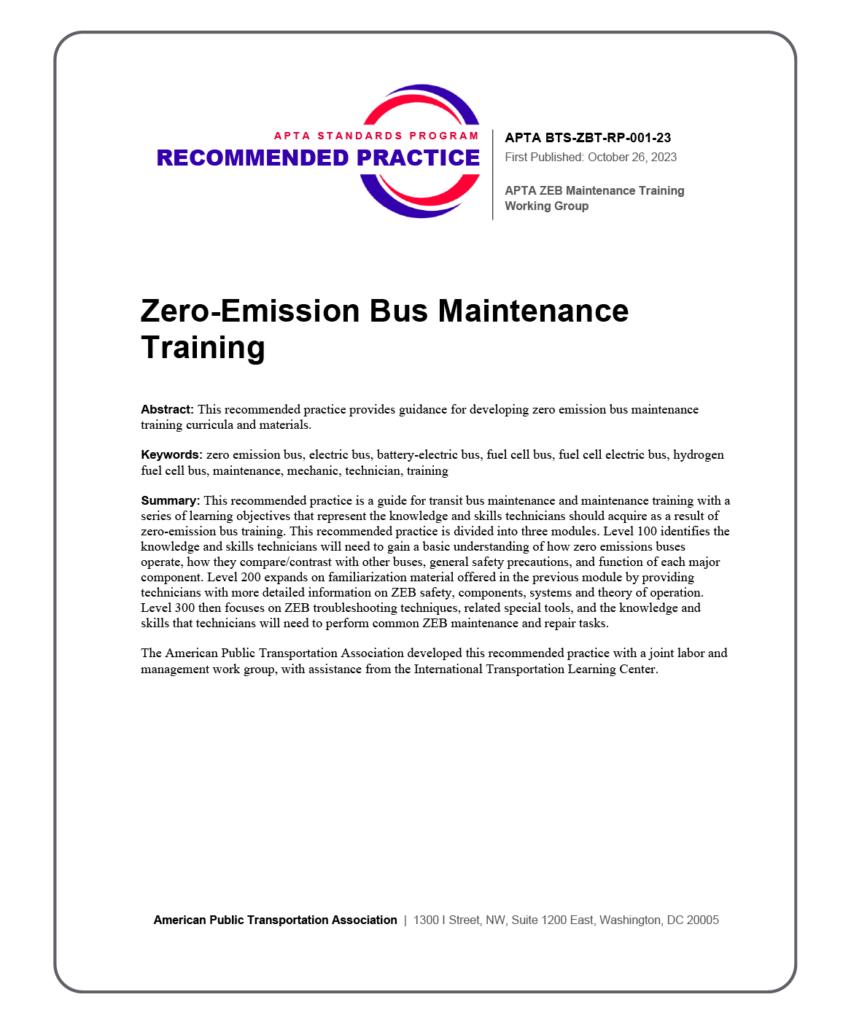 Zero-Emission Bus Maintenance Training Standards
This recommended practice provides guidance for developing zero emission bus maintenance training curricula and materials.
American Public Transportation Association
October 2023
LEARN MORE
This recommended practice is a guide for transit bus maintenance and maintenance training with a series of learning objectives that represent the knowledge and skills technicians should acquire as a result of zero-emission bus training. This recommended practice is divided into three modules. Level 100 identifies the knowledge and skills technicians will need to gain a basic understanding of how zero emission buses operate, how they compare/contrast with other buses, general safety precautions, and function of each major component. Level 200 expands on familiarization material offered in the previous module by providing technicians with more detailed information on ZEB safety, components, systems and theory of operation. Level 300 then focuses on ZEB troubleshooting techniques, related special tools, and the knowledge and skills that technicians will need to perform common ZEB maintenance and repair tasks.
The American Public Transportation Association developed this recommended practice with a joint labor and management work group, with assistance from the International Transportation Learning Center.
ZEB Maintenance Training Standards
LEARN MORE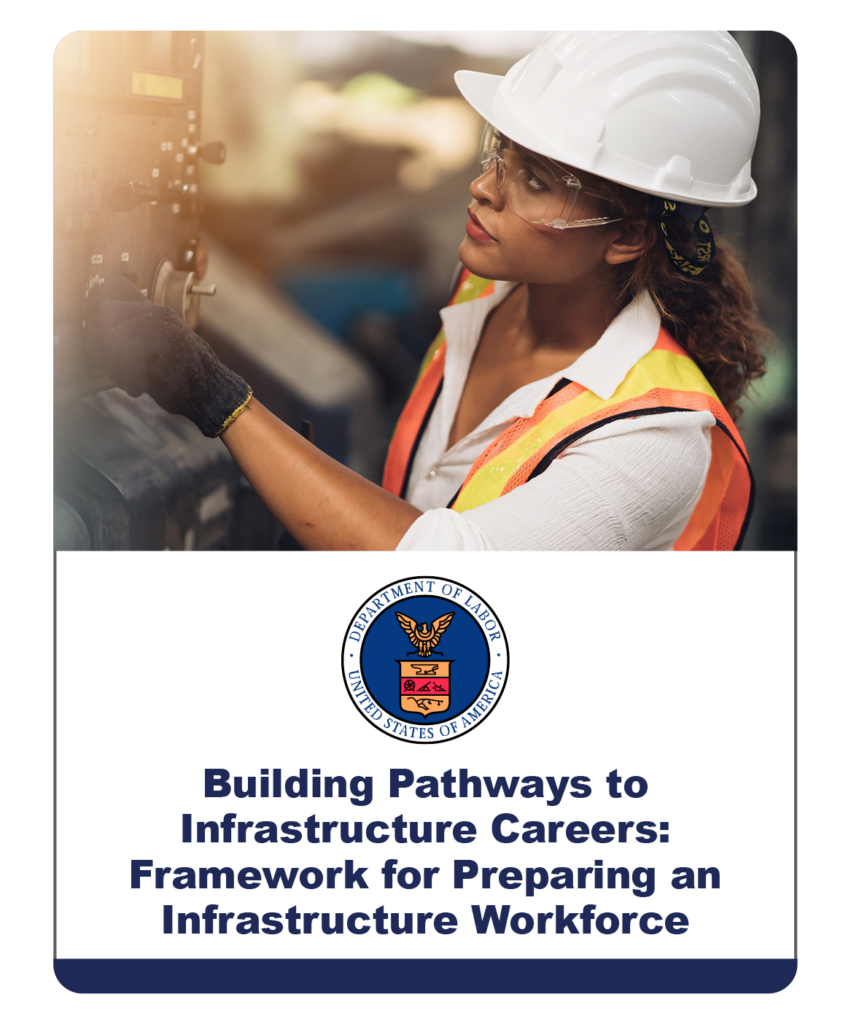 Building Pathways to Infrastructure Careers: Framework for Preparing an Infrastructure Workforce
This resource provides a framework for all workforce stakeholders, including infrastructure project leads, to engage the public workforce system in implementing the Bipartisan Infrastructure Law with strong workforce commitments and proven strategies that produce high-quality education, training, and employment opportunities for all workers.
U.S. Department of Labor, Employment and Training Administration
October 2022
TOPICS: Apprenticeship, Career Pathways, Diversity, Equity, Inclusion, and Access, Hiring and Recruitment, Labor-Management Partnerships, Policy and Planning, Procurement, Retention, Training, Zero Emission Buses
LEARN MORE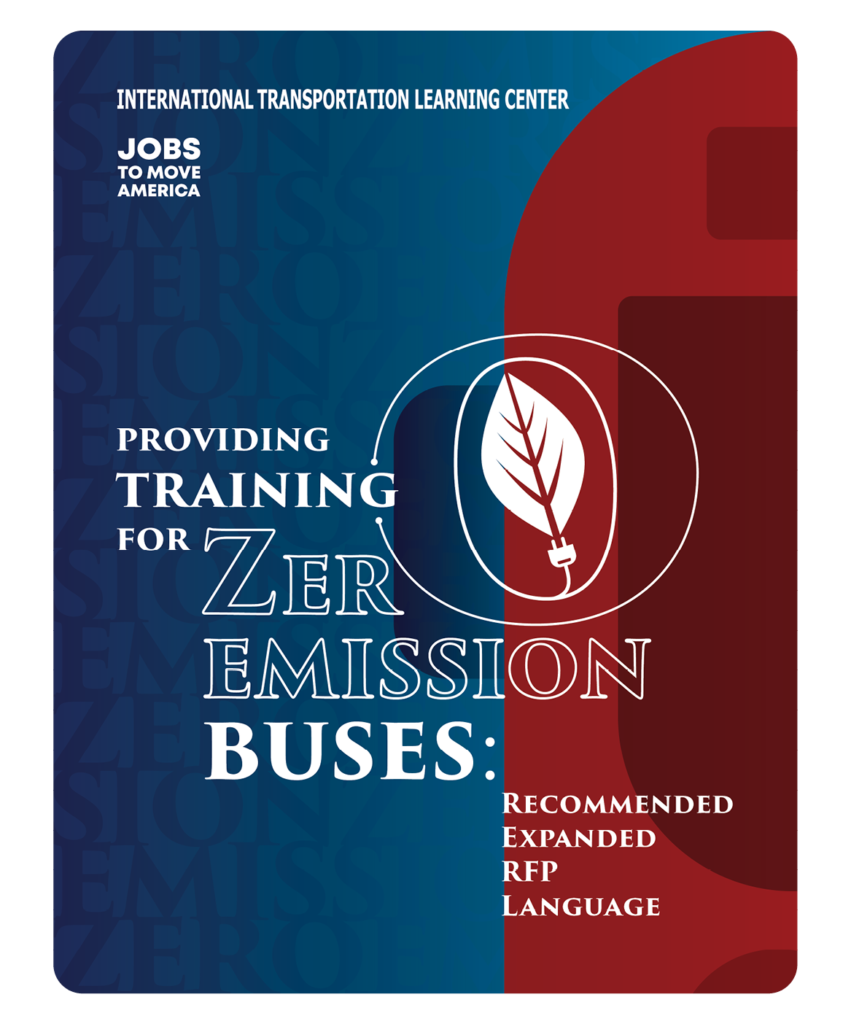 Providing Training for Zero Emission Buses: Recommended Expanded RFP Language
This document includes recommended language for agencies to build robust training procurement into their ZEB Request for Proposals. It is intended to be used as a starting point for agencies to tailor their training procurement to suit their specific needs.
International Transportation Learning Center; Jobs to Move America
February 2022
LEARN MORE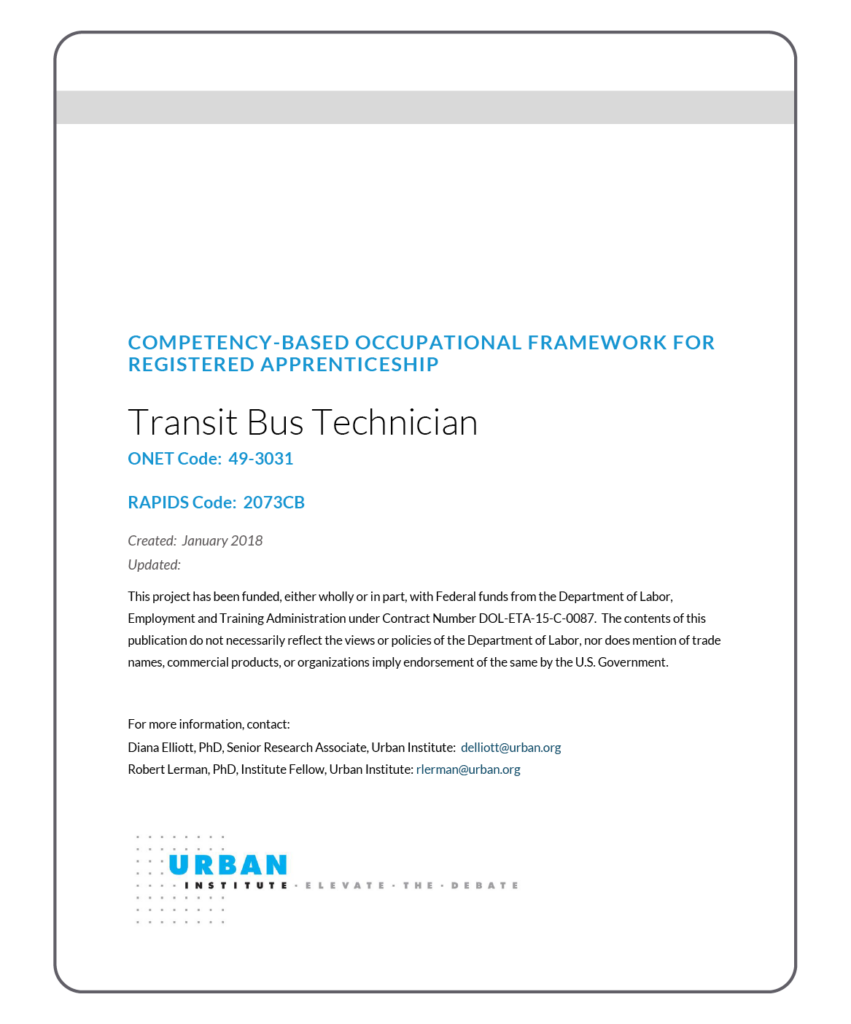 Bus Maintenance Apprenticeship Framework
The Bus Maintenance Apprenticeship Framework was developed by the National Bus Maintenance Apprenticeship Committee and approved by the U.S. DOL. It is a competency based framework that includes all of the tasks an apprentice should be able to demonstrate as a result of the training. Tasks are based on the ASE task list and APTA training standards. It is only a guide, locations can add or remove tasks to suit their individual operations.
The framework spreadsheet was developed by ITLC as a more in-depth and customizable version of the Bus Maintenance Apprenticeship Framework. Note the various tabs at the bottom for each Job Function.
International Transportation Learning Center; The Urban Institute
January 2018
LEARN MORE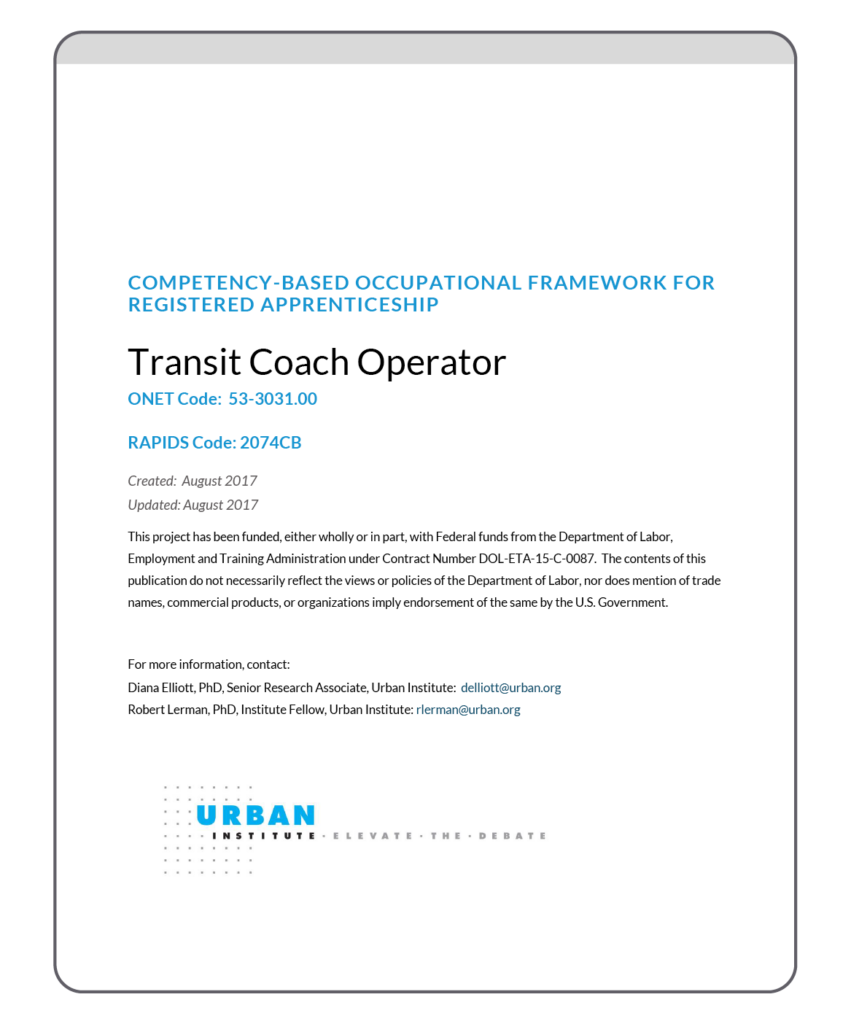 Transit Coach Operator Competency-Based Framework
This is the full Competency-Based Occupational Framework for Registered Apprenticeship for transit coach operator/bus operators.
The Urban Institute & International Transportation Learning Center
August 2017
LEARN MORE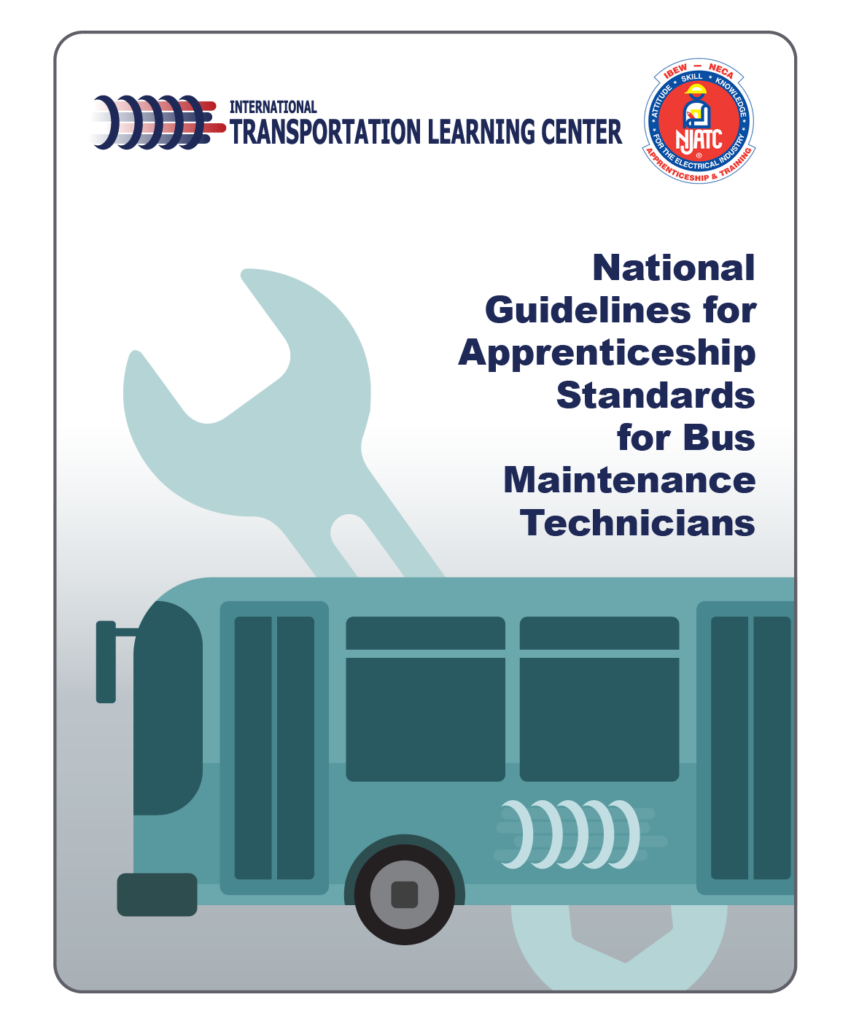 National Guidelines for Apprenticeship Standards for Bus Maintenance Technicians
These are the national guidelines for apprenticeship standards for bus maintenance technicians, developed in 2010 by the Intl. Transportation Learning Center and National Joint Apprenticeship and Training Committee (NJATC) in cooperation with the U.S. Department of Labor, Office of Apprenticeship.
International Transportation Learning Center & National Joint Apprenticeship and Training Committee (NJATC)
August 2010
LEARN MORE