TWC Webinar: Fundamentals of Mentoring
TWC Webinar: Fundamentals of Mentoring
June 22, 2022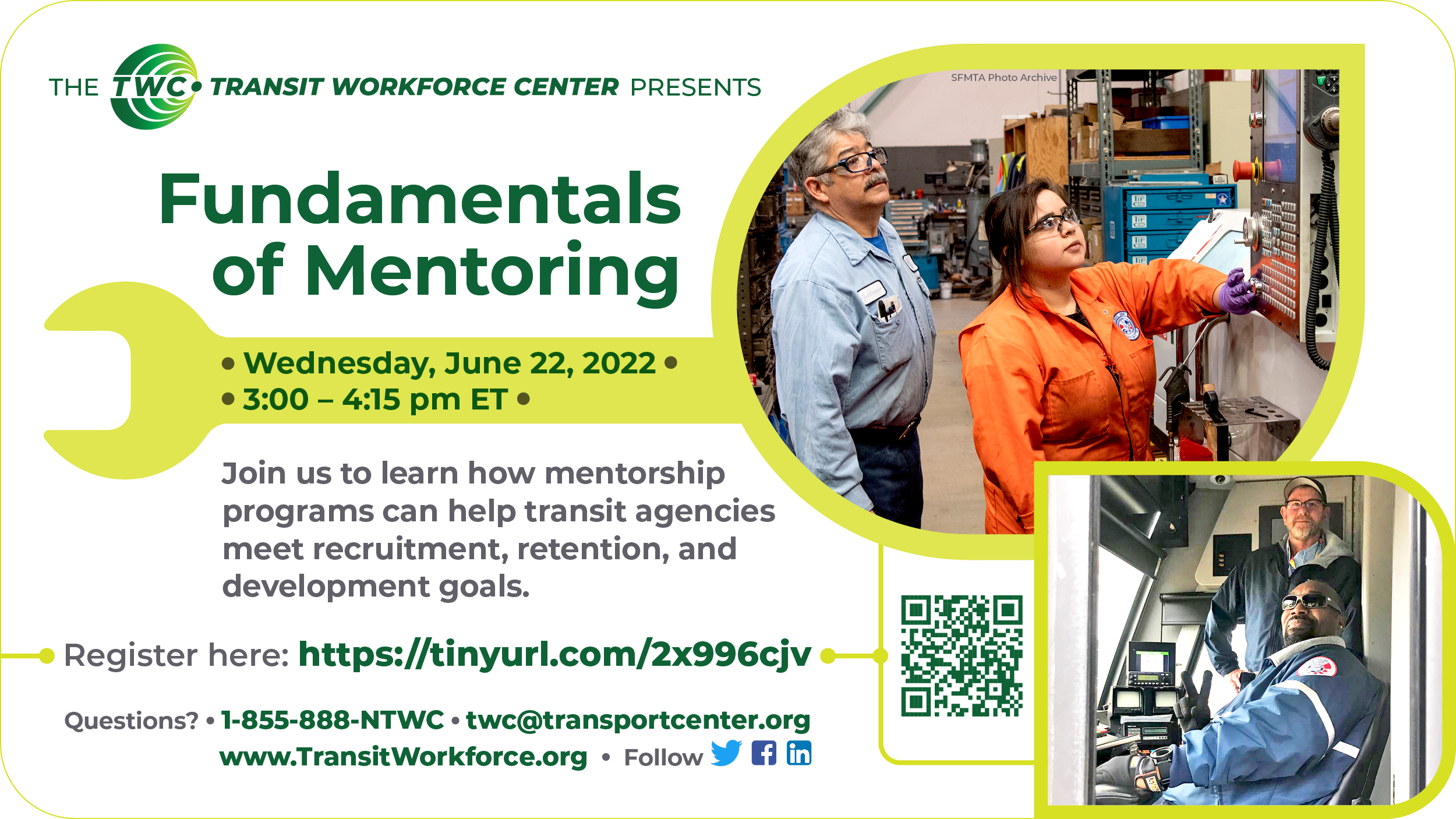 Online

June 22, 2022
:  Fundamentals of Mentoring
Description:
Mentor programs provide a powerful and effective tool for workforce development and retention. For maintenance occupations, mentors deliver hands-on training support, putting skills in diverse workplace contexts beyond the classroom. For bus operators, mentors provide guidance that addresses real world situations, building and expanding on basic training and creating ongoing support for each new operator. In every transit agency across all occupations, seasoned employees have stores of knowledge waiting to be shared. Without mentorship, this knowledge can be lost when workers retire or move on.
A well-structured mentorship program, designed in partnership with the workers, ensure this expertise is passed on. Strong mentorship programs also provide mentors with leadership opportunities and mentees with the skills and confidence they need to succeed, increasing expertise and morale throughout the organization. In this webinar, attendees will:
Develop an understanding of the key elements of a successful mentorship program
Hear from labor and management leaders at established transit mentor programs about the impact of mentorship programs in their agencies
Learn about the skills used by effective mentors
Listen to the experiences of current mentors and mentees.
This is the third in the Transit Workforce Center's webinar series on strategic workforce development planning in transit.
Presenters:
Michael Hursh, General Manager, AC Transit
Stuart Bass, Principal, Progress Worx
Jamaine Gibson, Director of Apprenticeships and Workforce Development, Amalgamated Transit Union International
Dionna McCane, ATU Mentorship and Apprenticeship Coordinator, ATU Local 1070/IndyGo – Indianapolis, IN
Kevin Philpotts, Apprenticeship Coordinator, TWU 234/SEPTA – Philadelphia, PA
Anton Pierson, Mentor, ATU Local 1005/Metro Transit – Minneapolis, MN
Contact Details
Karitsa Holdzkom