Transit Career Stories
Dionna McCane – Mentoring With Heart
Wearing a dress in the same shade of green as the outfits of her Amalgamated Transit Union (ATU) Local 1070 counterparts who have gathered at the new, gleaming IndyGo (Indianapolis) headquarters for its recent bus operator graduation, Dionna McCane exudes a palpable energy: bright, strong, and not to be ignored.
Dionna's deep understanding of a bus operator's daily experience is rooted in her 16 years as an operator, both with paratransit and fixed route transportation. Her career journey began in the Air Force Reserve and with the U.S. Postal Service, followed by time as a job coach working with people with developmental disabilities. After her mother convinced her to apply to IndyGo, Dionna began as an operator with IndyGo's Open Door paratransit service. She found the career very rewarding, partly because it connected to her prior work with people with developmental disabilities.
For the past two years, Dionna has been the ATU Mentorship and Apprenticeship Coordinator for IndyGo, a position that perfectly fits her empathetic and people-focused persona. When IndyGo partnered with ATU Local 1070 in March 2021 to kickstart a mentoring program, Dionna was selected as one of three operators trained as mentors under ATU International's Director of Workforce Development and Apprenticeships Jamaine Gibson. This new career opportunity prompted Dionna to examine what she needed to do to mentor and inspire others. "I thought, in order for me to do that, I have to be better. For me to want somebody else to be better, I have to be better," she says.
---
The Mentor Program – Giving Back
The now-thriving mentor program boasts 59 mentors, with 50 bus operators and nine mechanics. Dionna wants the mentoring program to be about relationships. "I want it to be more like a family. We all take care of each other," she explains, emphasizing that the program is the most successful when participants want to continue their commitment to it. She is thankful to everyone involved, adding, "I have mentees waiting to be mentors, so that makes me feel good." The mentors, she notes, find mentoring gives them a renewed purpose and motivation. "They're feeling like [they're] giving back, and that's what I want to foster." Dionna enjoys being an advocate. "I like helping people. I like being a person's voice or showing people that they have a voice and how to use it. I think that's what fuels me," she says.
Her dedication to the bus operators at IndyGo runs deep, as Dionna has made it a habit to ride along on operator's routes on Saturdays to show them extra support. "You will be surprised at how excited some of them will be. It's just a fun day," she says. She describes helping operators new to the country adjust to their new environment. She's even gone the extra mile, driving her car in front of a bus to help an operator uncertain of their route. "It just makes me feel like it's helping them over that hump, and some of them now are out here loving the job. Sometimes it's just that little piece that gives people that extra incentive to keep going every day. It gets better. That's what I tell them every day—it'll get better."
Dionna talks to the new classes in depth, asking each member personal questions to help her assess their personalities, which helps her to effectively match mentees and mentors. "I know how to listen. I'm proud of that," she says, acknowledging that this critical skill helps her. "I try to be intentional. I tell them I care how you feel. I care that you don't have a car. I care that you're trying to make it. I feel like if somebody is trying, why not help them?" Her end goal, she notes, is that "I want them to know that they can do it."
The buddy system that mentoring creates offers "somebody that you can call and tell them about your day. The [mentors] truly understand. They're going to listen and put themselves in your shoes, because [they've] been there." Dionna is confident about the program's future and about recruiting even more experienced operators to mentor. "I want it to grow, and I want the light to blind them to where they're a part of it before they even know it." A feather in her cap will be convincing a few additional operators she has in mind to become mentors, because they're exceptional employees and have a lot to give.
So far, the program's success is substantial, and Dionna appreciates the mentors who will do anything she asks. She would love to see the program house a team of people helping to guide the mentors and mentees. She adds, "I would like to see it grow and expand to all departments. I have people in management asking me how to start their own mentoring program. I like that—from the top to the bottom. You don't leave anybody out. I want it to be inclusive. I have general laborers who want their own program, and I think that's fair. I think every new person coming in should be paired with a mentor, somebody to help them get acclimated to a company's ways."
Dionna emphasizes the selflessness that the program brings out in everyone and how she loves to see that level of commitment. Creating a work environment where people care about each other is critical to her, and she knows how much it will help meet the daily challenges operators face. "Every job has negativity and toxic ways, but I think the program as it grows, it'll push that out. That's what my hope is. That's why I try to surround myself with people that feel like I do. They want to see it to be a real family."
---
Operators, Mentoring, and the Pandemic
When she saw the effects of the COVID pandemic, Dionna started support groups among the mentors, finding that people benefited from opening up to each other and forming community. The pandemic brought out issues that were always lying under the surface, and the new reality it uncovered had to be addressed. Dionna says, "Mental health is real, and it's not just the people we pick up. It's mental health among your coworkers. It's people not knowing how to put one foot in front of the other. They get up and keep trying to come to work not realizing it's okay to say 'I need help.'"
Despite the pandemic's impact, she can see a positive side to it that came with realizations that motivate her today. "COVID made people more aware of what's going on around them—to care more about other people versus just yourself."
---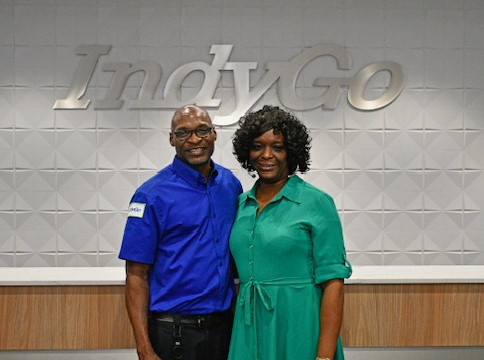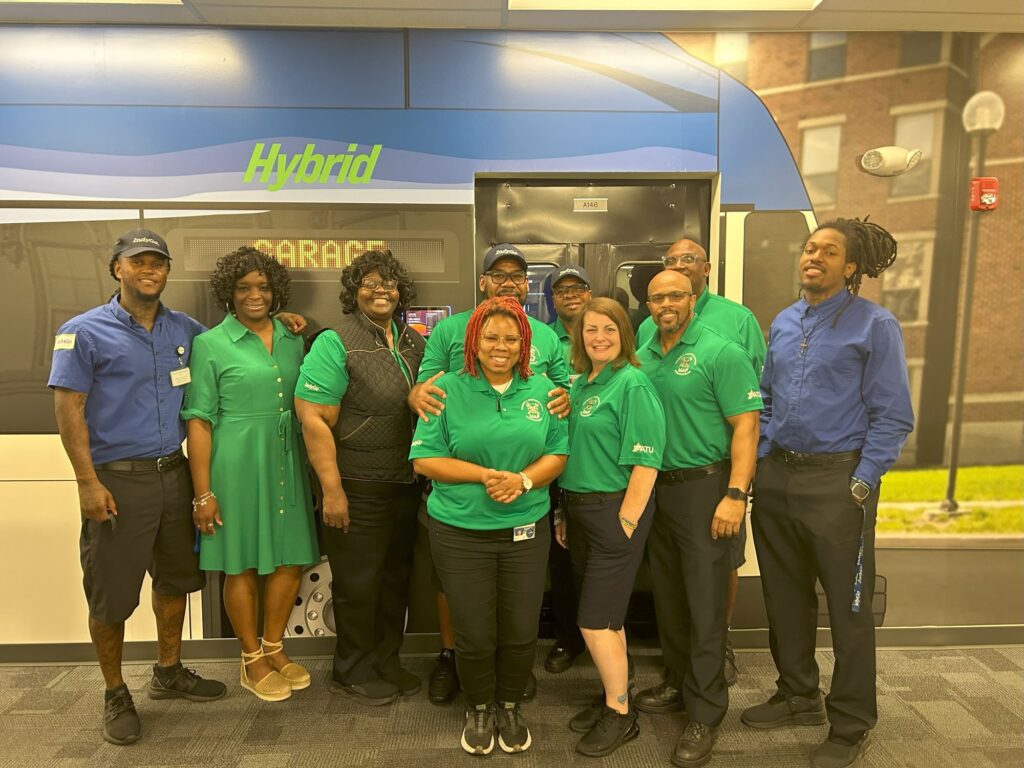 ---
A People Person
When Dionna speaks about her experience with all types of riders, her ability to empathize shines through. She describes the time she drove a girl who didn't have coat and how she helped her to get one. She shares how she treats elderly riders with the respect she would give her auntie or grandmother, wondering why they're out grocery shopping without a family member, friend, or aide to help them. She adds, "You meet people, and they'll tell you their story. 'I have to get to work. I'm taking care of my little brother and sister, my mom's on drugs.' And it will just make you realize that some people don't have it as good as you." She says, "That's where I found I like to listen, because you hear things that are not usually being said."
To be a bus operator, Dionna knows that being a people person is a must. "I never thought I was a people person. It took years, and I'm still a work in progress." She says you have to be in touch with your human side. Dionna's brother recently shared that he wants to be a bus driver, and she told him her list of must-haves: "You can't be everybody's friend. You have to have some standards. You have to have some structure. You can't give everybody a free ride. You have to be able to say no. You have to be able to stand your ground. You have to be able to be the captain of that bus. You have to be able to be assertive. You have to be able to be a counselor at times." She thinks that a main piece of the role is understanding that "everybody is different." She continues, "To drive that bus, you have to have backbone. You have to have some character also about yourself to be able to carry on a conversation and drive and watch for pedestrians and motorcyclists. You're not just a bus driver, you're somebody who's people's only friend. And you have to be able to open yourself up to whatever may come because every day is different. No day is the same."
Dionna's eyes and ears are attuned to the needs of operators and riders based on the time she spent behind the wheel, carefully listening to the people whose routes she drove day after day. With that background and understanding, Dionna can relate to new operators and all the questions running through their minds about the skill sets that they're expected to develop as they take their first steps in this challenging and rewarding profession. She says, "I can still remember my first day pulling out of that garage and just wanting, wishing I had somebody there." She's gratified that she is now able to be there for others.
---
Learn more about mentoring programs by reading TWC's Apprenticeship FAQ and mentoring data factsheet, Transit Mentorship Metrics: Positive Signs for Retention, Attendance, and Additional Outcomes.
For past and upcoming career stories, bookmark the TWC Blog.