RESOURCE TYPE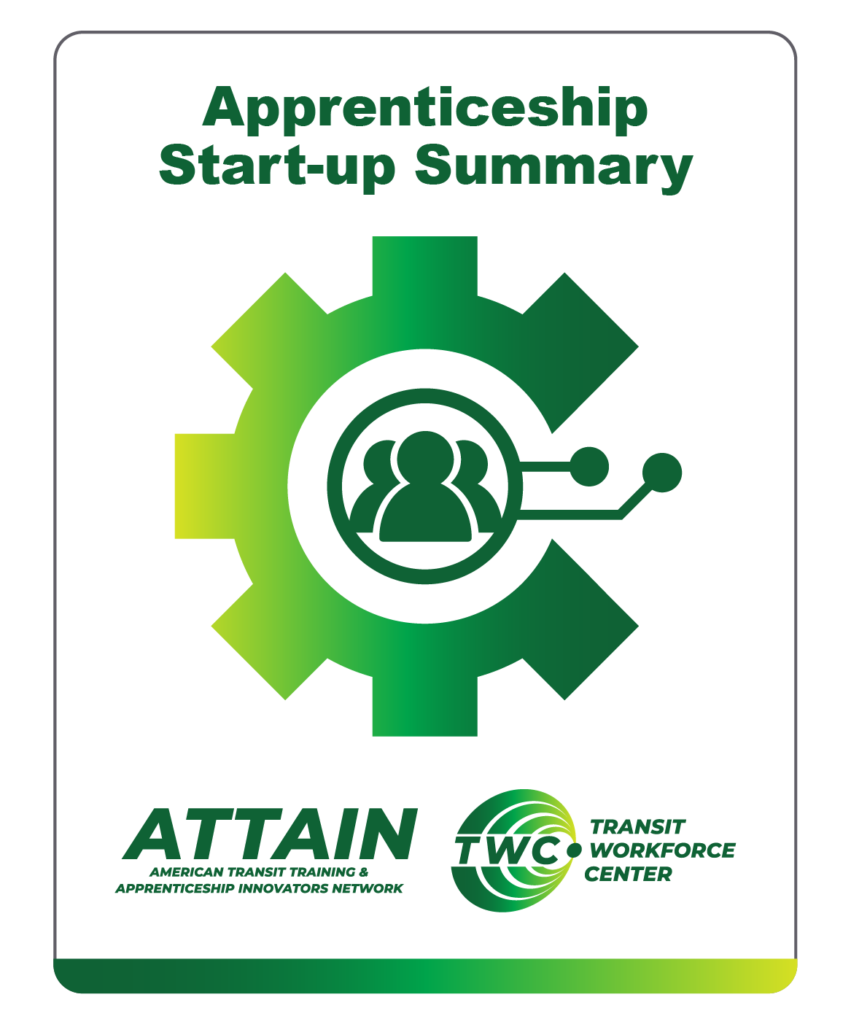 Apprenticeship Start-up Summary
ProgressWorx
April 2023
If the workforce for the occupation to be registered as an apprenticeship is represented by a labor union, the employer and union would register the program as an Individual Joint program.
If the workforce is not represented, the program would be registered as an Individual Non-Joint program by the employer.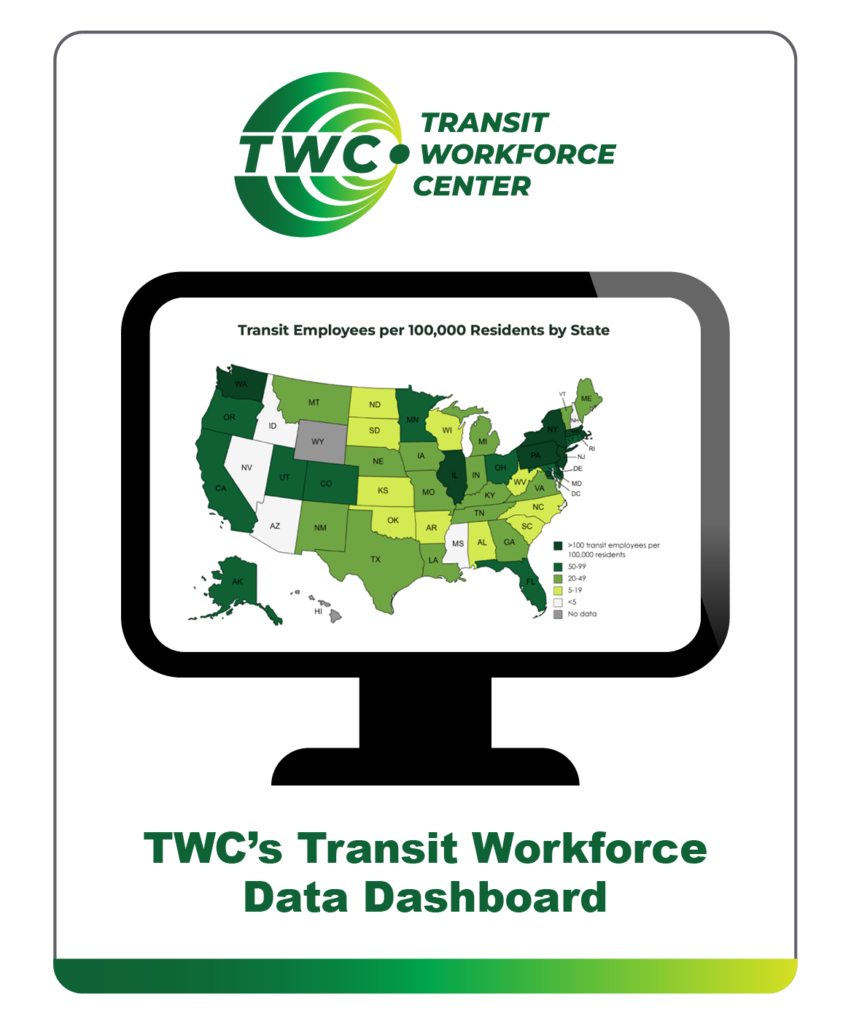 TWC's Transit Workforce Data Dashboard
Launched in March, 2023, the Transit Workforce Data Dashboard presents quantitative, descriptive data about the composition of the transit workforce and trends in transit employment using a series of charts and graphics. This information is relevant for industry discussions in a range of contexts, including: strategic workforce planning in recruitment, retention, and other areas; examining and addressing opportunities and challenges related to diversity, equity, inclusion, and access; and identifying training and funding needs.
Transit Workforce Center
March 2023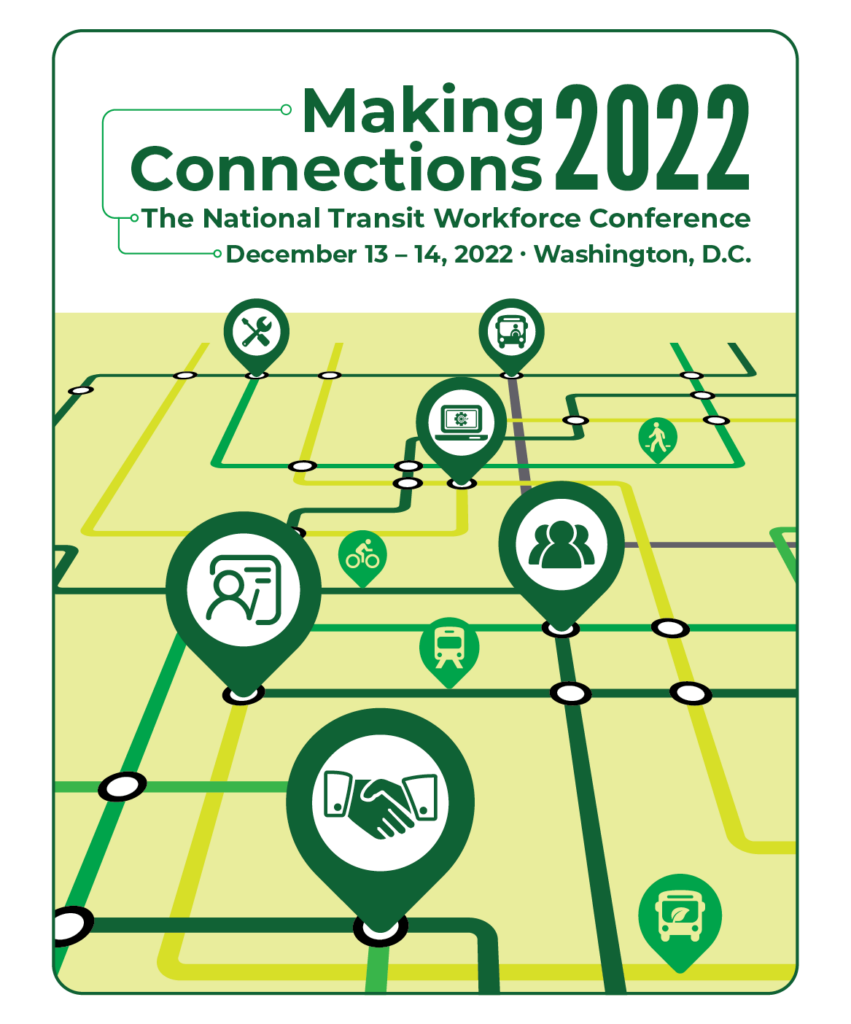 Making Connections 2022 – Meeting Industry Needs: Feedback Session on FTA's Draft Strategic Workforce Development Plan
This handout was shared with participants in a feedback session held during TWC's Making Connections 2022 transit workforce conference in December, 2022.
Transit Workforce Center & Federal Transit Administration
December 2022
Session Summary: The Federal Transit Administration, assisted by the Transit Workforce Center, is developing a strategic plan to support, strengthen and advance the transit industry's workforce development programs. In this working session, participants heard about the current draft version of the plan and provided feedback and input that will shape the final document and direction.
Speakers
Mary Leary: Acting Associate Administrator for Research, Demonstration and Innovation – Federal Transit Administration
FTA Workforce Development National Plan Handout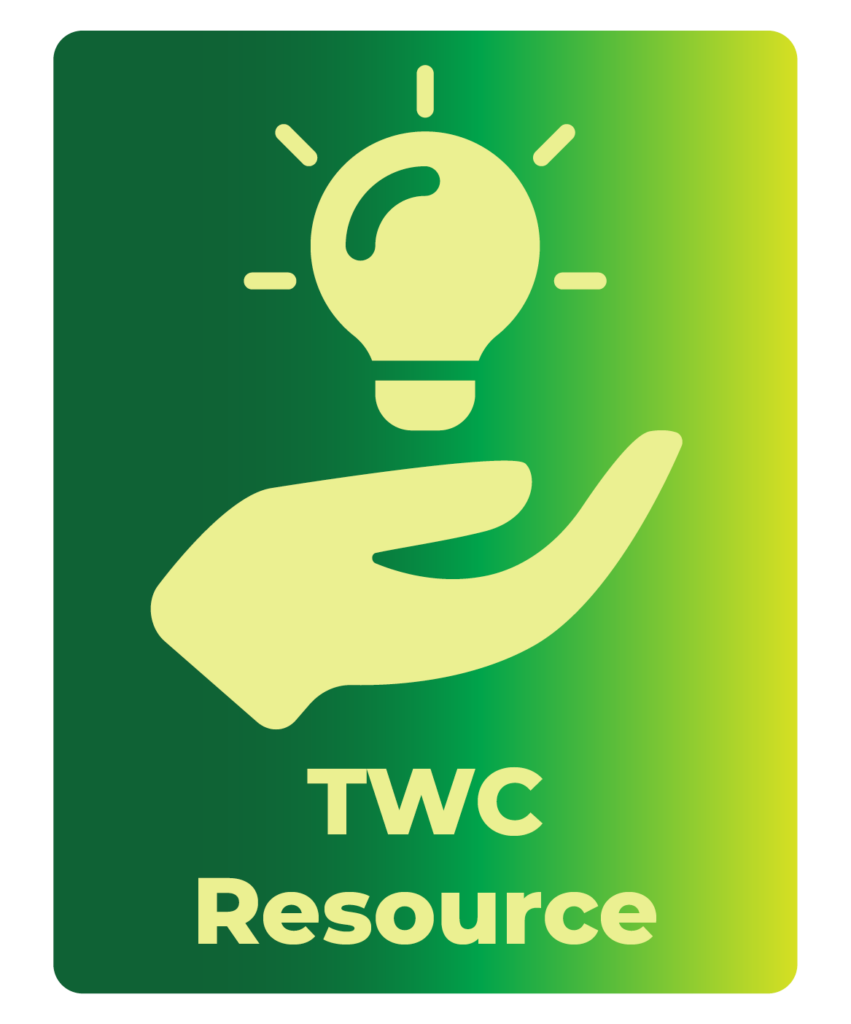 Fact Sheet: Veterans in Registered Apprenticeship
This fact sheet provides an overview of how veteran-specific public benefits can be applied to support a veteran's completion of a registered apprenticeship program. It also provides links to resources for more detailed information on apprenticeship resources for service members, employment resources for veterans, and more.
ApprenticeshipUSA
August 2022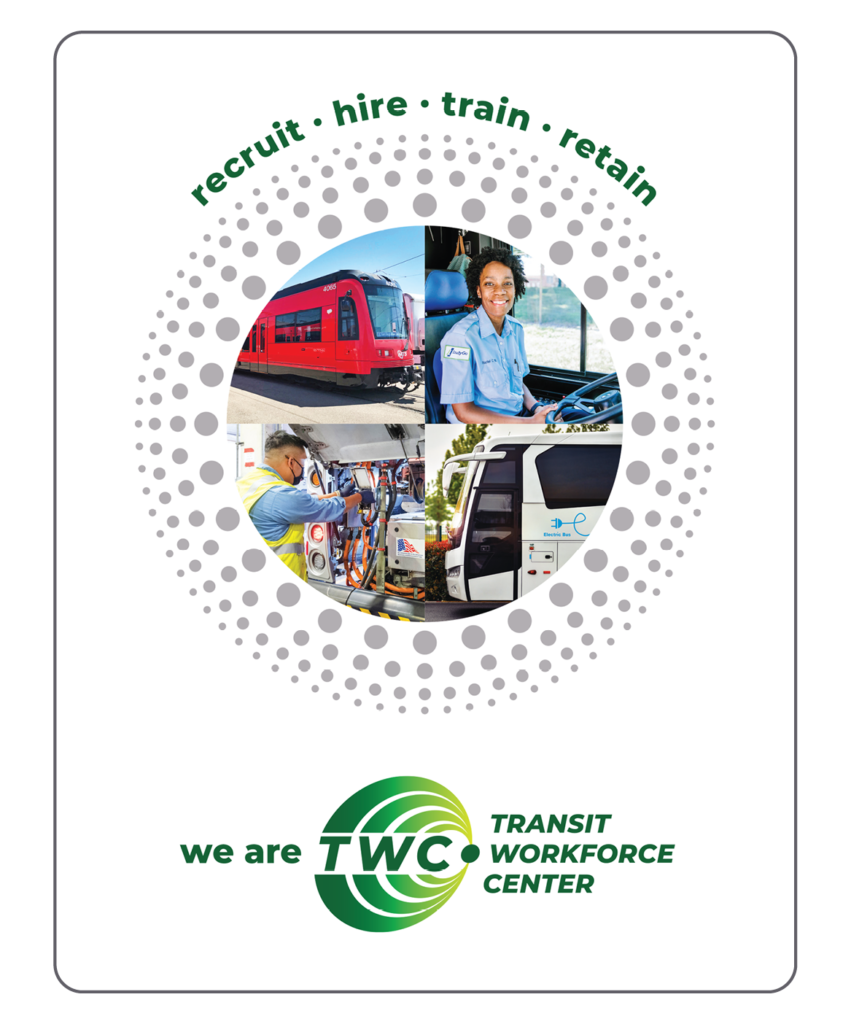 Transit Workforce Center
The Transit Workforce Center (TWC) is the Federal Transit Administration's first ever national technical assistance center for transit workforce development. Its mission is to help urban, suburban, tribal, and rural public transportation entities recruit, hire, train, and retain the diverse workforce needed now and in the future.
This fact sheet summarizes the TWC's mission, initiatives, and services.
Transit Workforce Center
March 2022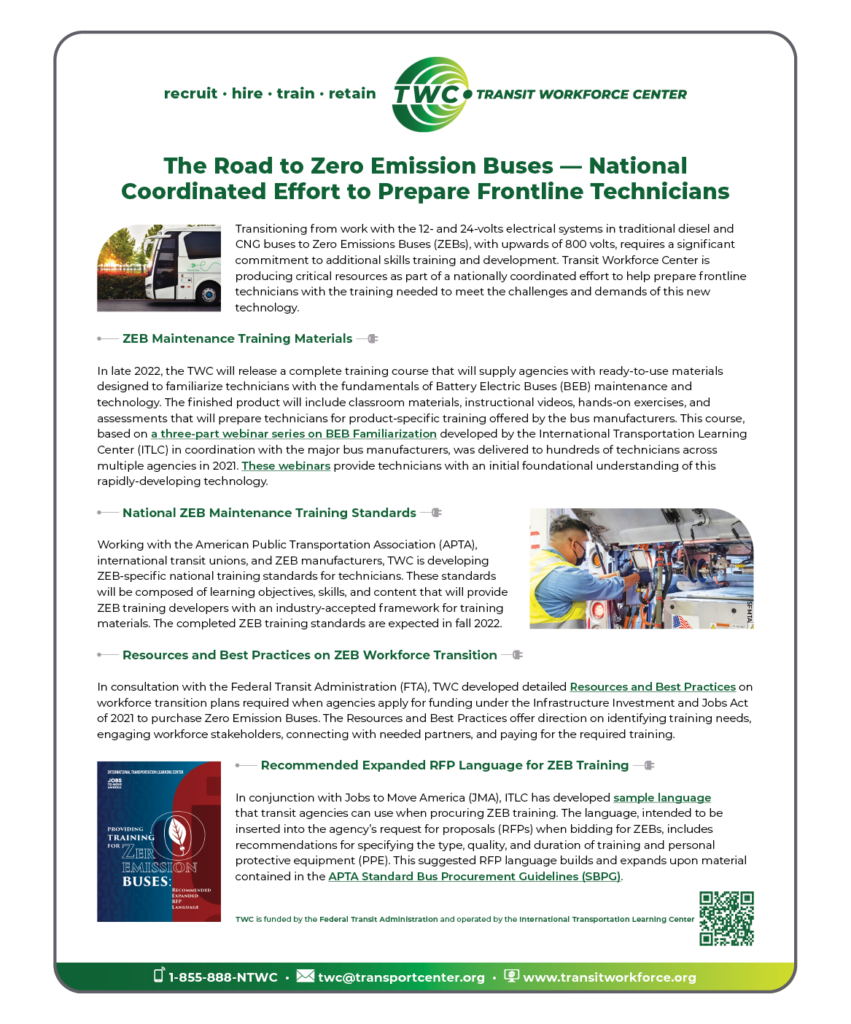 The Road to Zero Emission Buses — National Coordinated Effort to Prepare Frontline Technicians
Transitioning from work with the 12- and 24-volts electrical systems in traditional diesel and CNG buses to Zero Emissions Buses (ZEBs), with upwards of 800 volts, requires a significant commitment to additional skills training and development. The Transit Workforce Center is producing critical resources as part of a nationally coordinated effort to help prepare frontline technicians with the training needed to meet the challenges and  demands of this new technology. This document summarizes our ZEB resources.
Transit Workforce Center
March 2022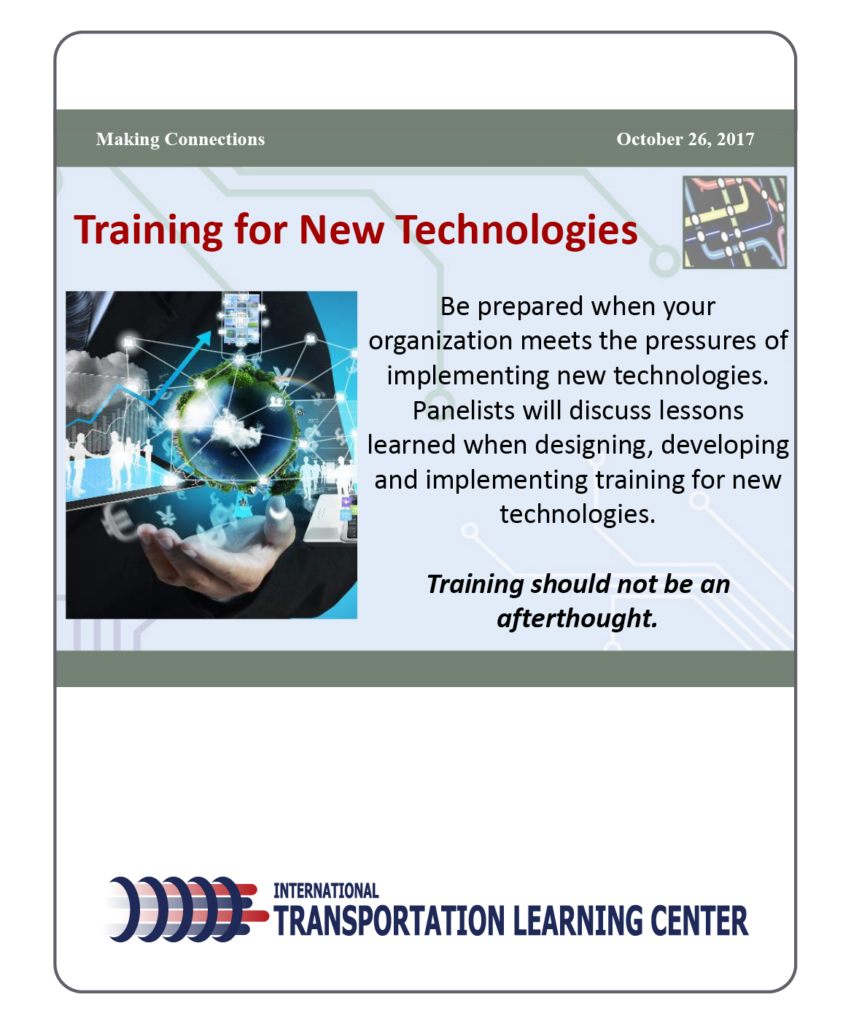 Training for New Technologies – workshop slides
Slide presentation from "Training for New Technologies" workshop held during the International Transportation Learning Center's Making Connections conference held on October, 26, 2017.
International Transportation Learning Center
October 2017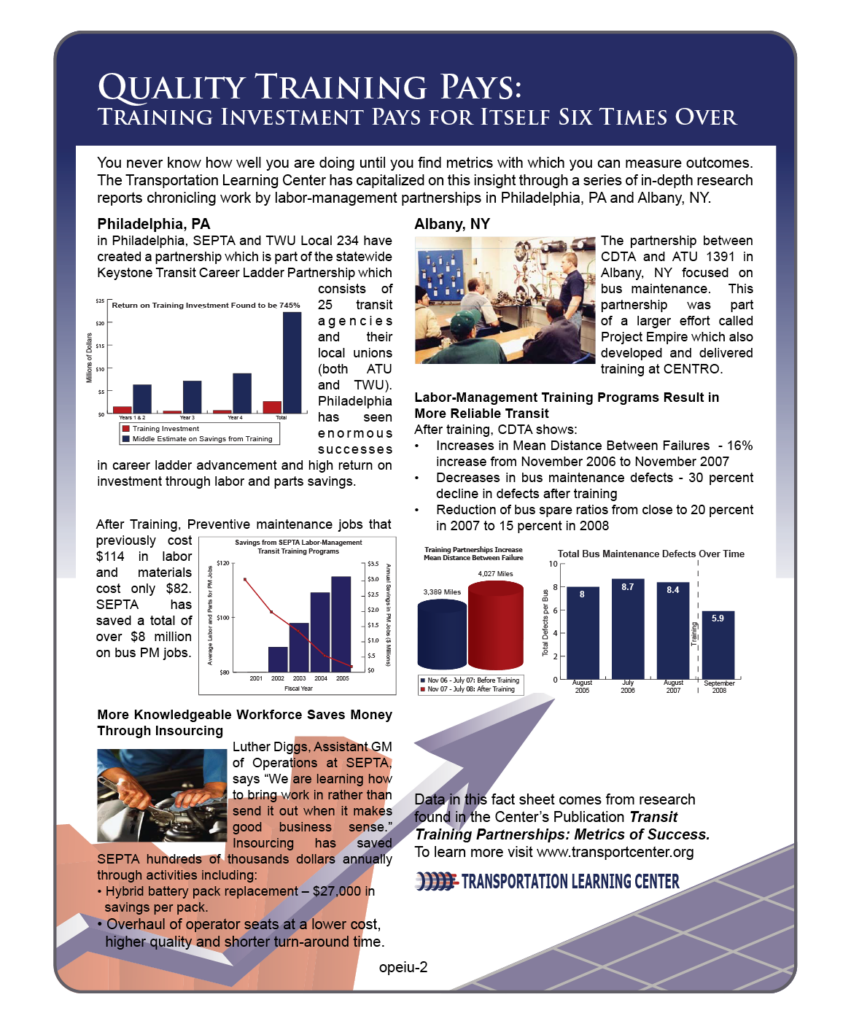 Quality Training Pays: Training Investment Pays for Itself Six Times Over
You never know how well you are doing until you find metrics with which you can measure outcomes. The Transportation Learning Center has capitalized on this insight through a series of in-depth research reports chronicling work by labor-management partnerships in Philadelphia, PA and Albany, NY. This fact sheet outlines these findings and shows a substantial return on training investment.
International Transportation Learning Center
June 2011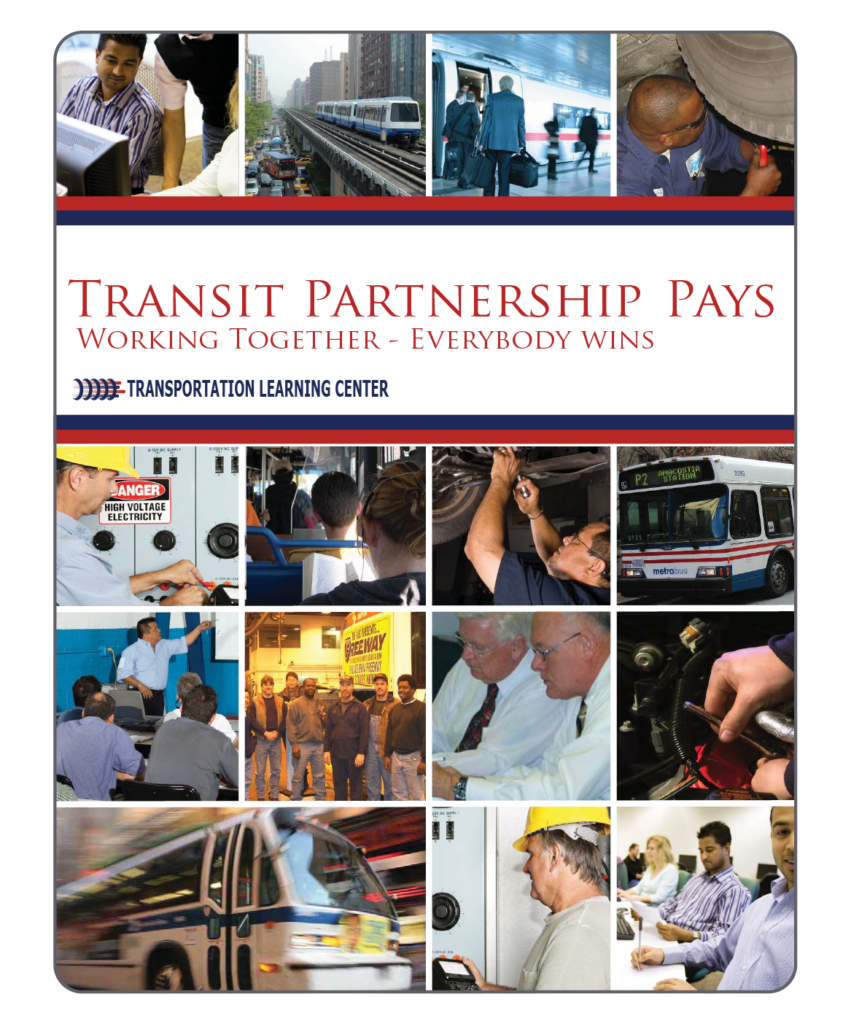 Transit Partnership Pays: Working Together – Everybody Wins
This report highlights the evidence that the most successful, cost efficient and durable training systems come from industry based labor-management partnerships.
International Transportation Learning Center
September 2009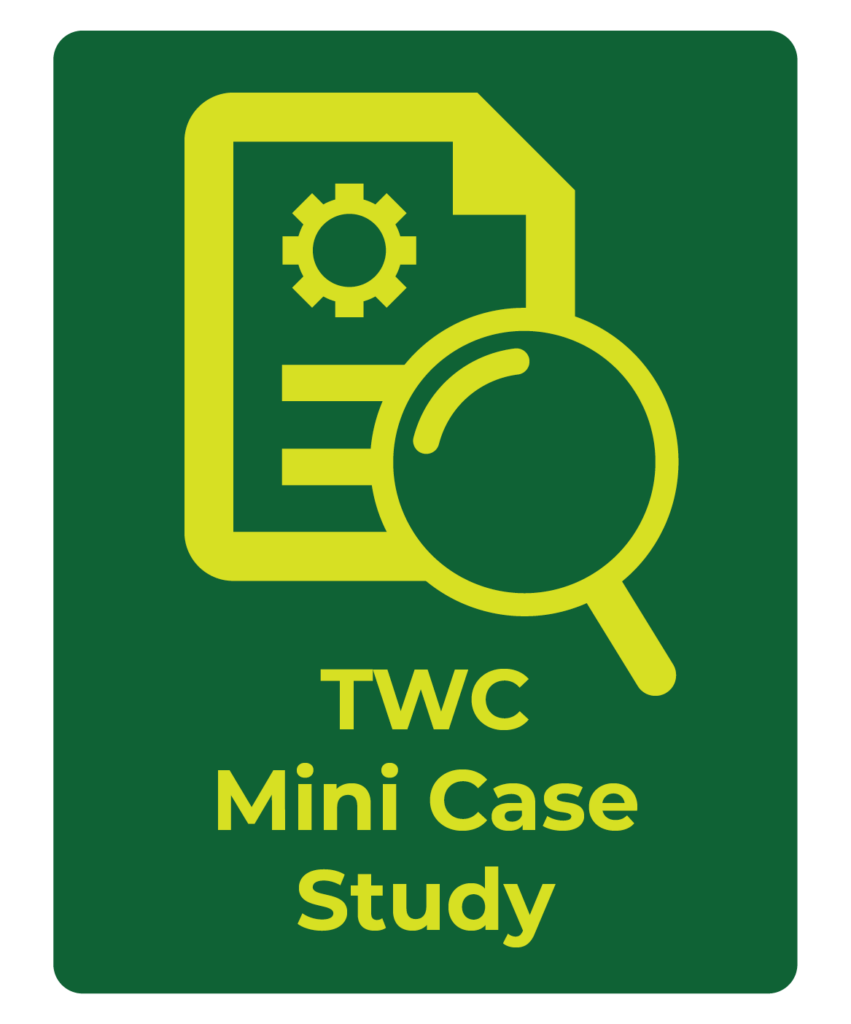 APTA Emerging Leaders Presentation: Recruiting & Retaining Bus Operators
This slidedeck, from an APTA Emerging Leaders Program presentation, provides an overview of research and transit agency case studies to capture key themes on the topic of bus operator recruitment and retention.
American Public Transportation Association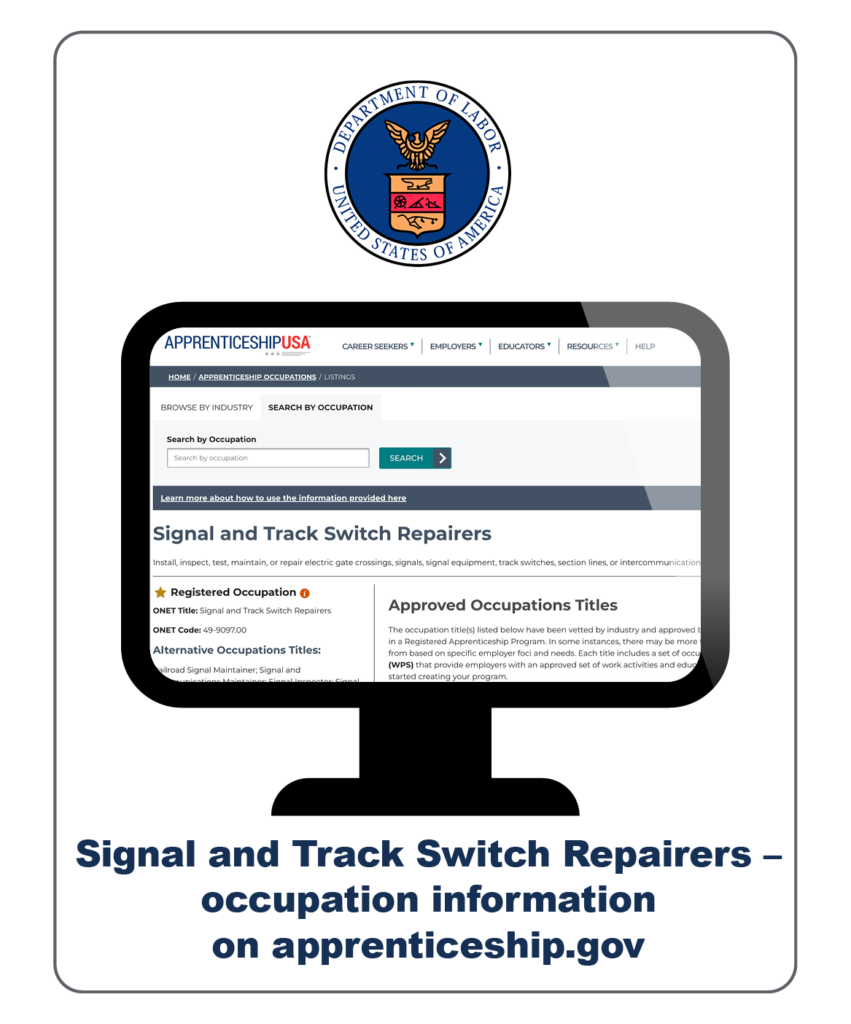 Signal and Track Switch Repairers – occupation information on apprenticeship.gov
US Department of Labor