RESOURCE TYPE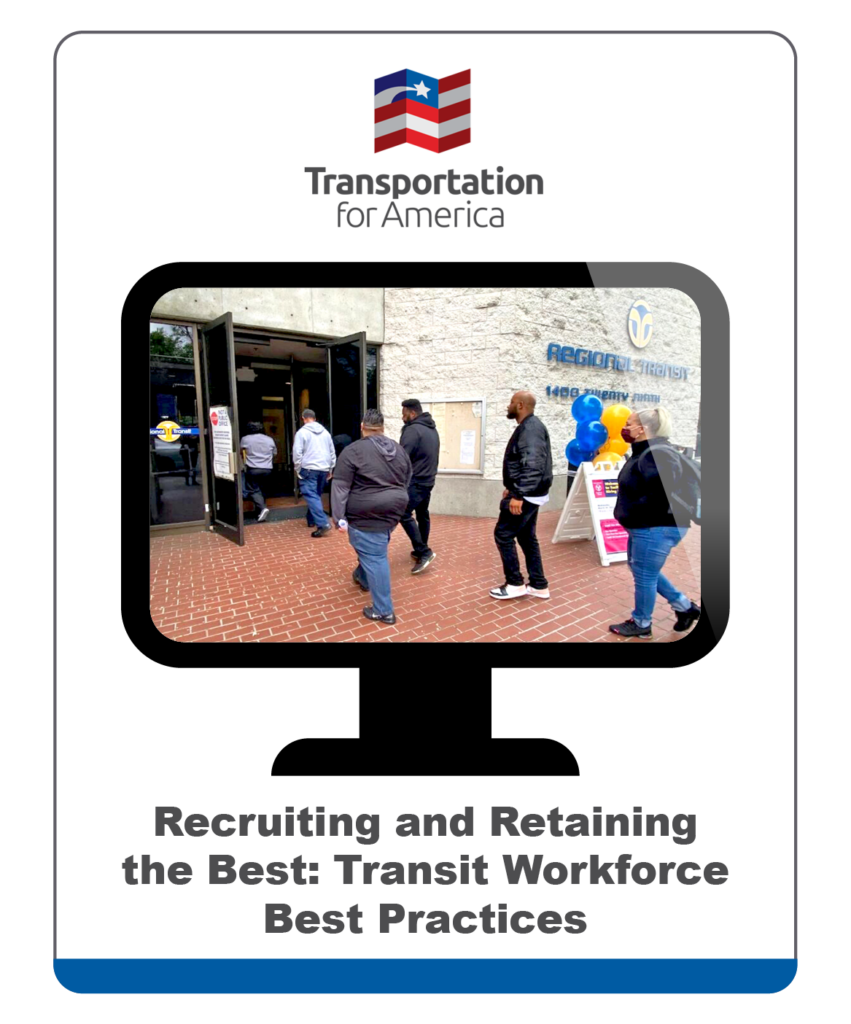 Recruiting and Retaining the Best: Transit Workforce Best Practices
This blog post from Transportation for America details successful strategies and best practices employed by transit agencies to empower their operator and maintenance workforces.
Transportation for America
September 2022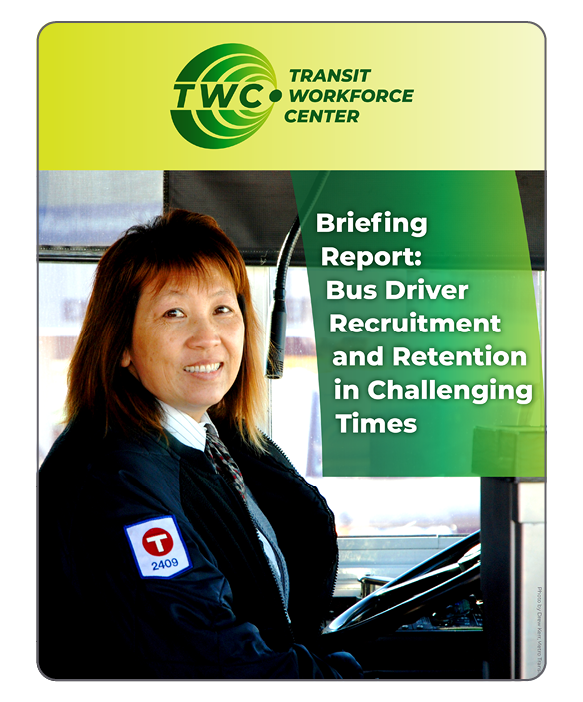 TWC Briefing Report: Bus Driver Recruitment and Retention in Challenging Times
The TWC released this brief in spring 2022 discussing challenges facing transit agencies in recruiting and retaining bus drivers.
Transit Workforce Center
April 2022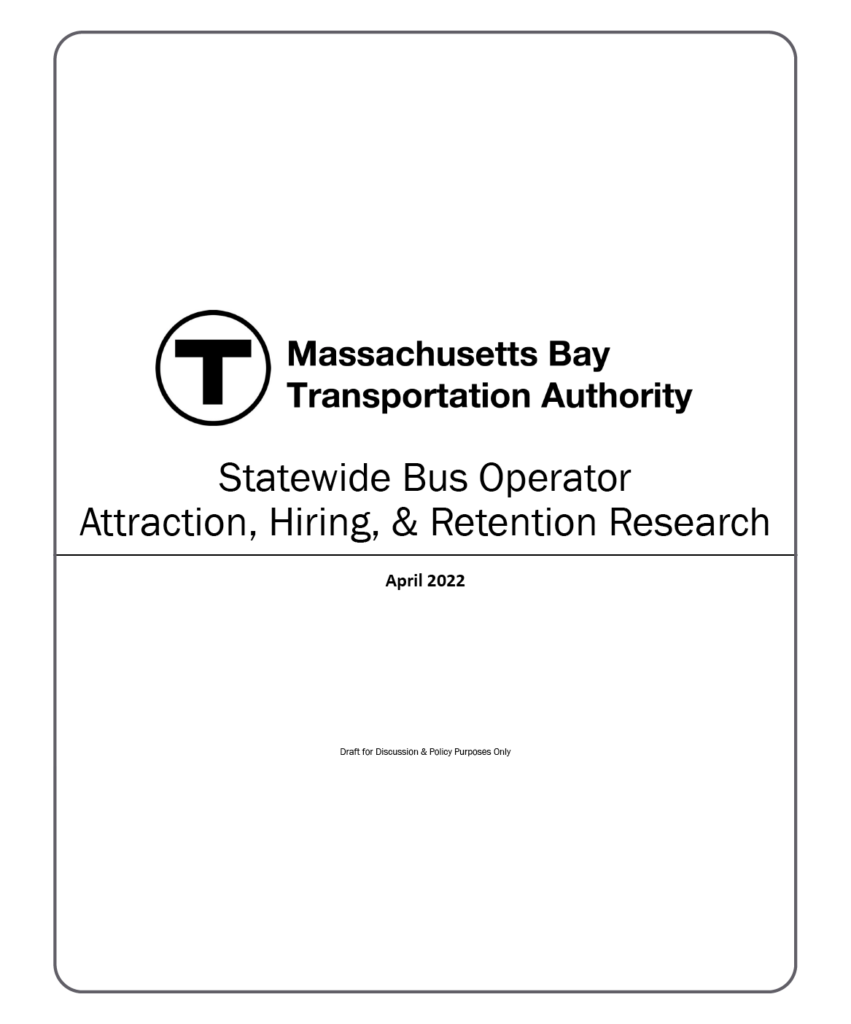 Statewide Bus Operator Attraction, Hiring, & Retention Research
These slides were used in a presentation outlining research conducted to better understand the shape and scale of the bus operator shortage in Massachusetts public transit, and the adjustments agencies are making to confront these challenges.
MBTA / MassDOT
April 2022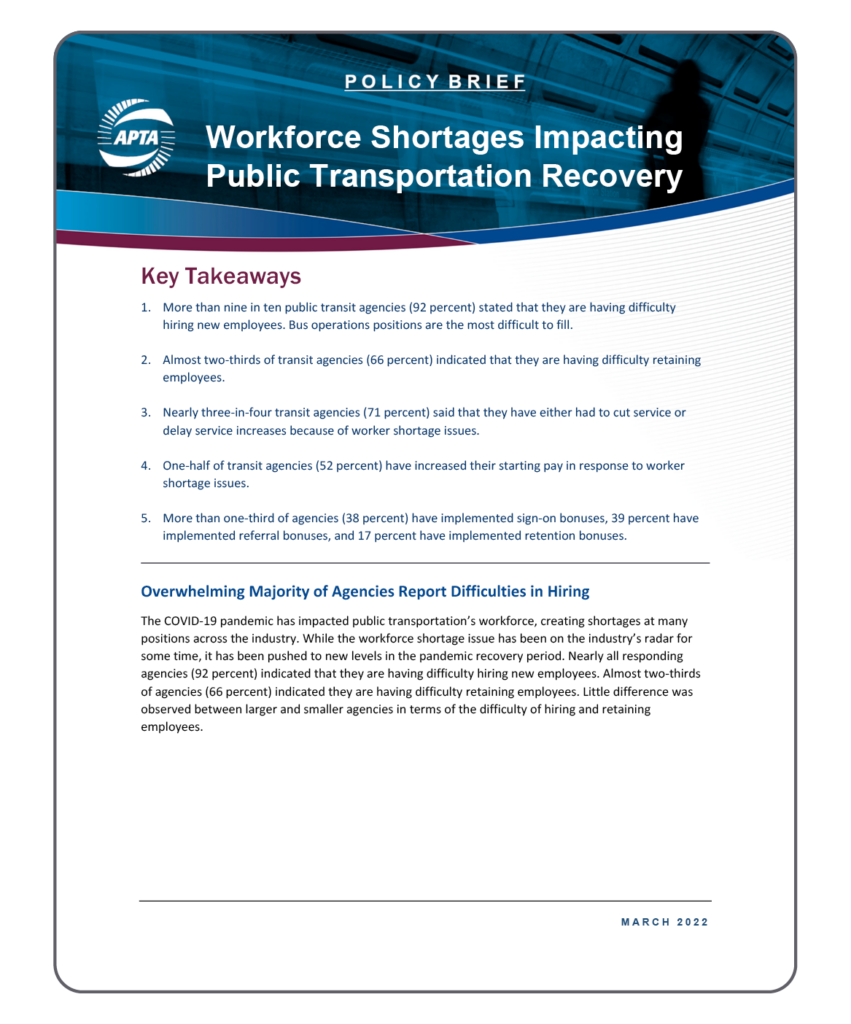 Policy Brief: Workforce Shortages Impacting Public Transportation Recovery
This recent report summarizes results from a survey APTA conducted with transit agencies in early 2022. The majority of responding agencies reported difficulties with hiring, with bus operator recruitment being the biggest challenge.
American Public Transportation Association
March 2022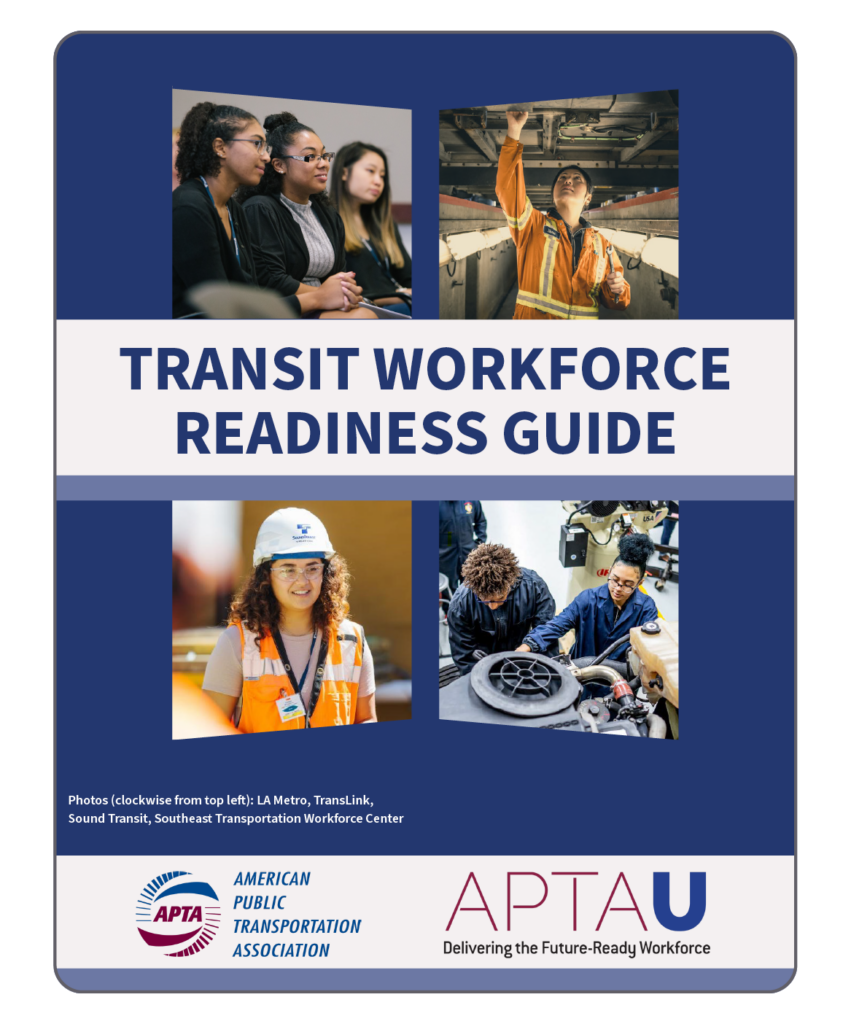 APTA Transit Workforce Readiness Guide
APTA's Transit Workforce Readiness Guide is a highly interactive and easy-to-use online resource for executives and their staff to assist organizations in building a more diverse talent pipeline by attracting high school students, especially those coming from underserved communities, into entry-level transit positions.
American Public Transportation Association (APTA)
March 2021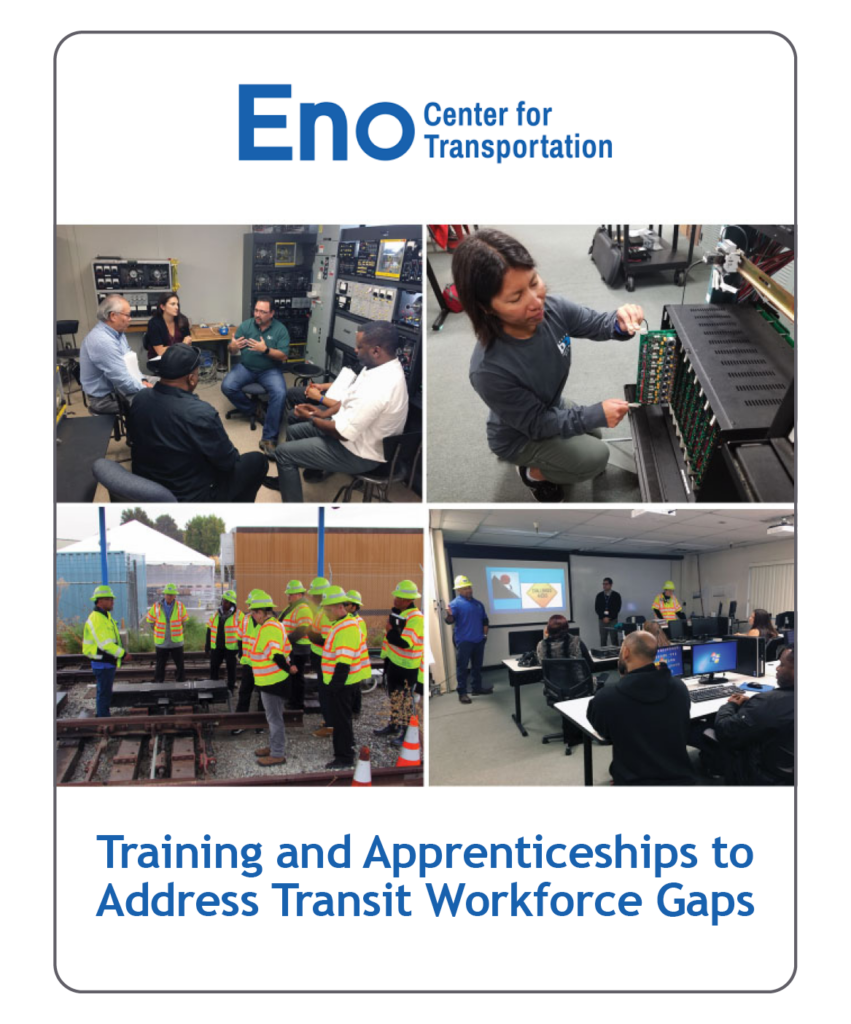 Training and Apprenticeships to Address Transit Workforce Gaps
It is well known that public transit in the United States faces a workforce skills crisis. A lot of attention — properly — goes to training for skilled craft positions, like bus mechanics. Bus operators also do skilled work, and there are a lot more of them. This piece explores the role of training and apprenticeship programs in meeting workforce needs in transit, with a focus on operators.
Eno Center for Transporation
August 2019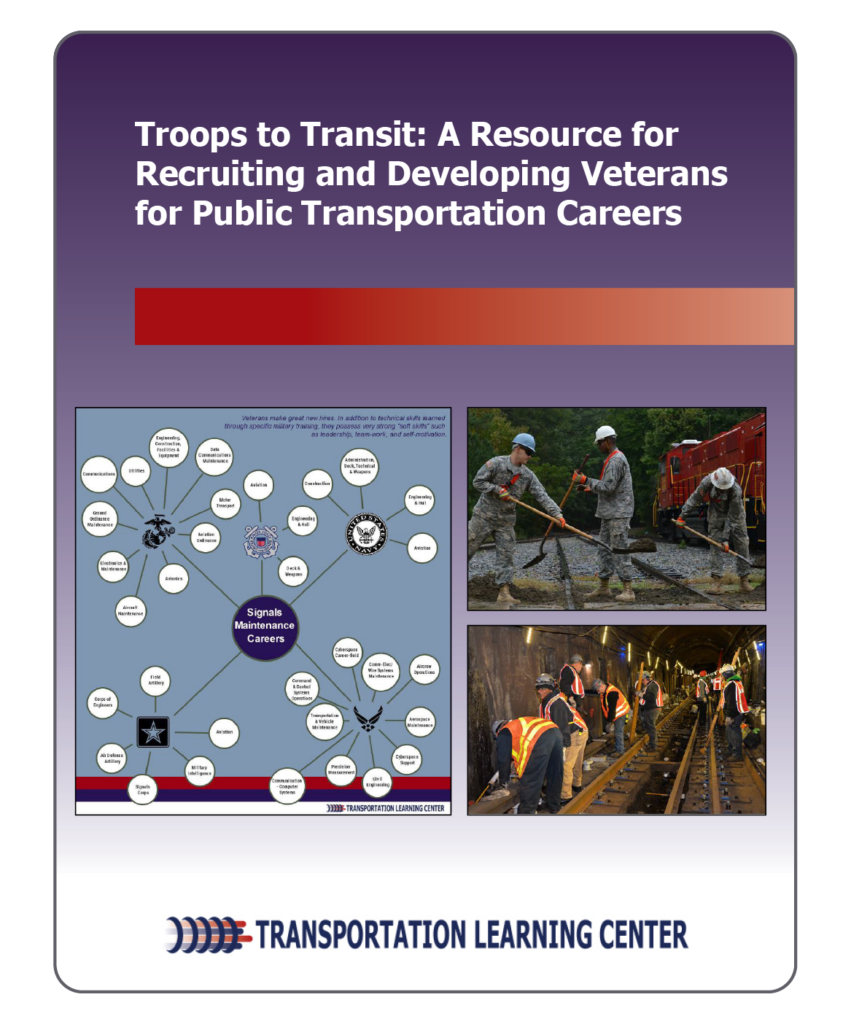 Troops to Transit: A Resource for Recruiting and Developing Veterans for Public Transportation Careers
The International Transportation Learning Center's analysis of Bureau of Labor Statistics data has shown that the transportation industry in large will likely see a massive front-line labor shortage in the next ten years unless it is able to find and hire skilled workers. In fact, it is estimated that 126 percent of today's transit workforce will have to be hired and trained in the next ten years.
In order to help fill this need, the center has produced a Veterans Crosswalk tool (see Excel document below) which matches skill-sets learned during military service with the kinds of skills that public transportation agencies look for when hiring signals maintainers. This product was produced in cooperation with a Veterans Taskforce made up of veterans who are also Subject Matter Experts in the field of Signals Maintenance. This detailed matrix has been distilled down into a user-friendly Veteran's Factsheet (see PDF below) which provides at-a-glance information for both veterans interested in a signals career and for agencies looking to hire skilled veterans.
The tool is accompanied by a summary report.
International Transportation Learning Center
November 2016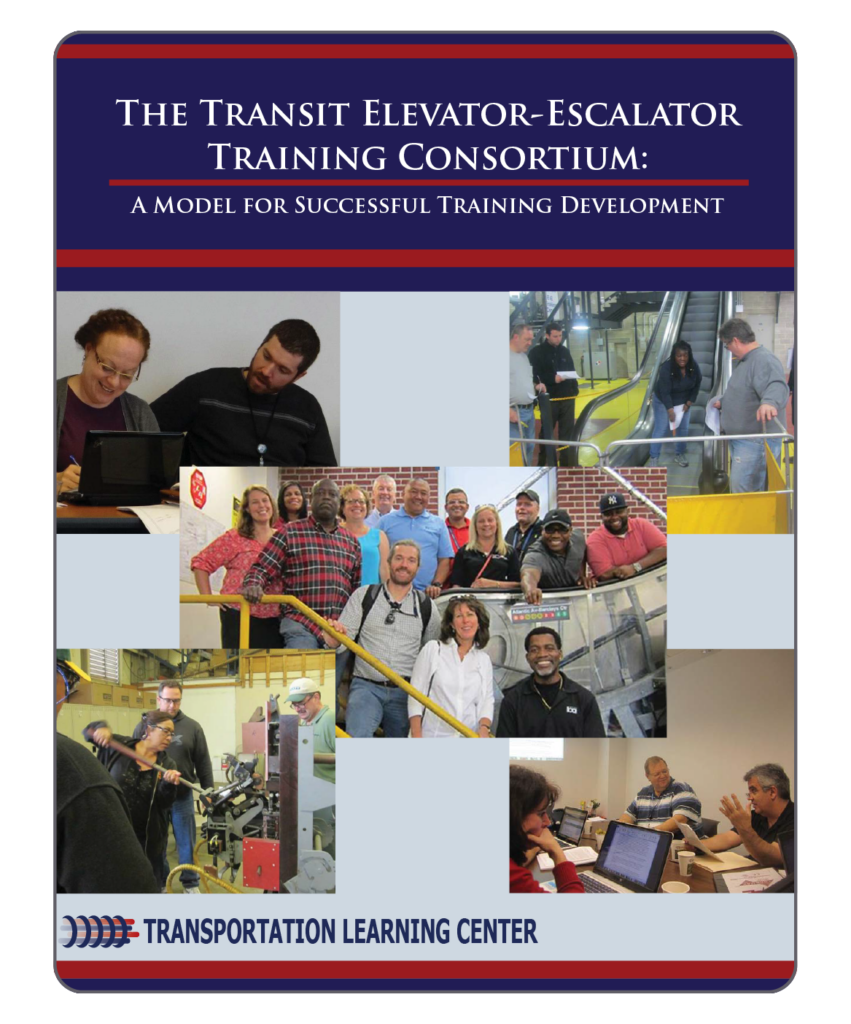 The Transit Elevator-Escalator Training Consortium: A Model for Successful Training Development
A report on the process, products and outcomes related to the first National consortium for development of training for public transportation maintenance employees. This joint labor-management effort set a proven model for multiple other similar consortia. Products include – instruction ready courseware, a nationally recognized apprenticeship program for transit maintenance elevator/escalator maintainers and train-the-trainer program.
International Transportation Learning Center
September 2016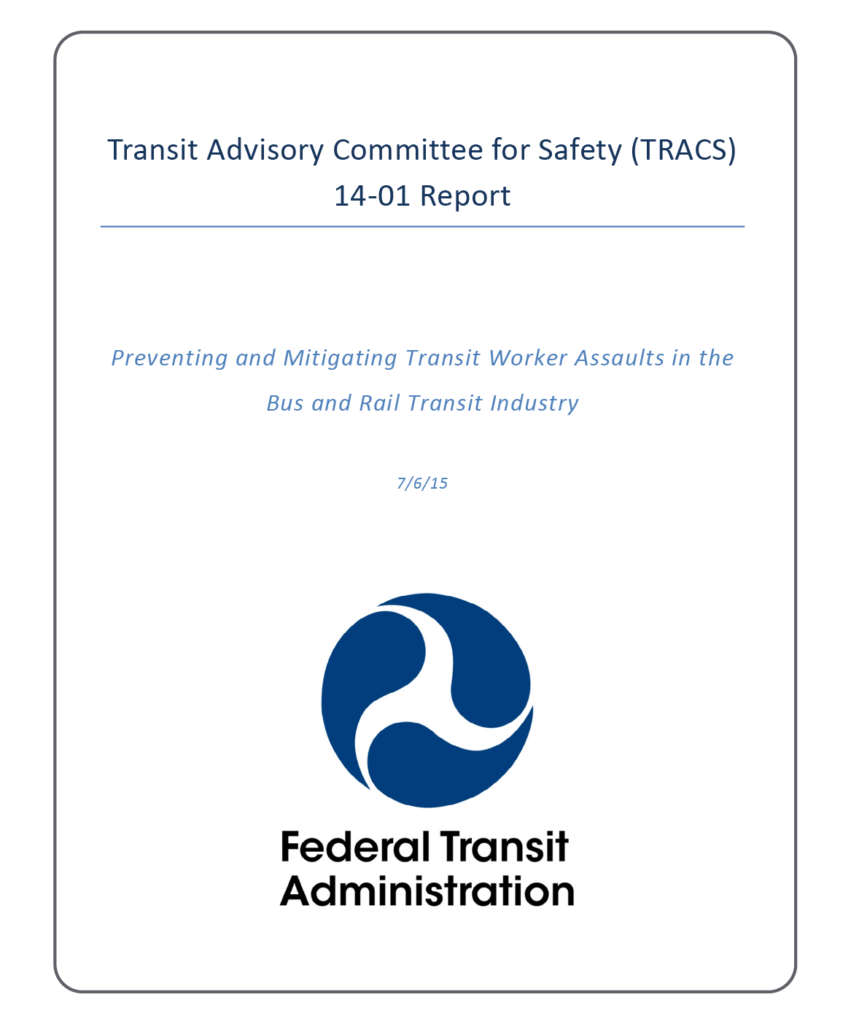 Preventing and Mitigating Transit Worker Assaults in the Bus and Rail Transit Industry
On October 28th and 29th, 2014, the Federal Transit Administration (FTA) Administrator tasked the Transit Advisory Committee for Safety (TRACS) with developing recommendations for FTA on the elements that should comprise a Safety Management System (SMS) approach to preventing and mitigating transit worker assaults. Representatives from state and local transportation agencies, labor unions, research organizations, and national transportation associations worked together to create recommendations for FTA to prevent assaults against transit workers. These recommendations address each aspect of the SMS approach, including policy, risk management, safety promotion, and safety assurance.
Transit Advisory Committee for Safety (TRACS)
July 2015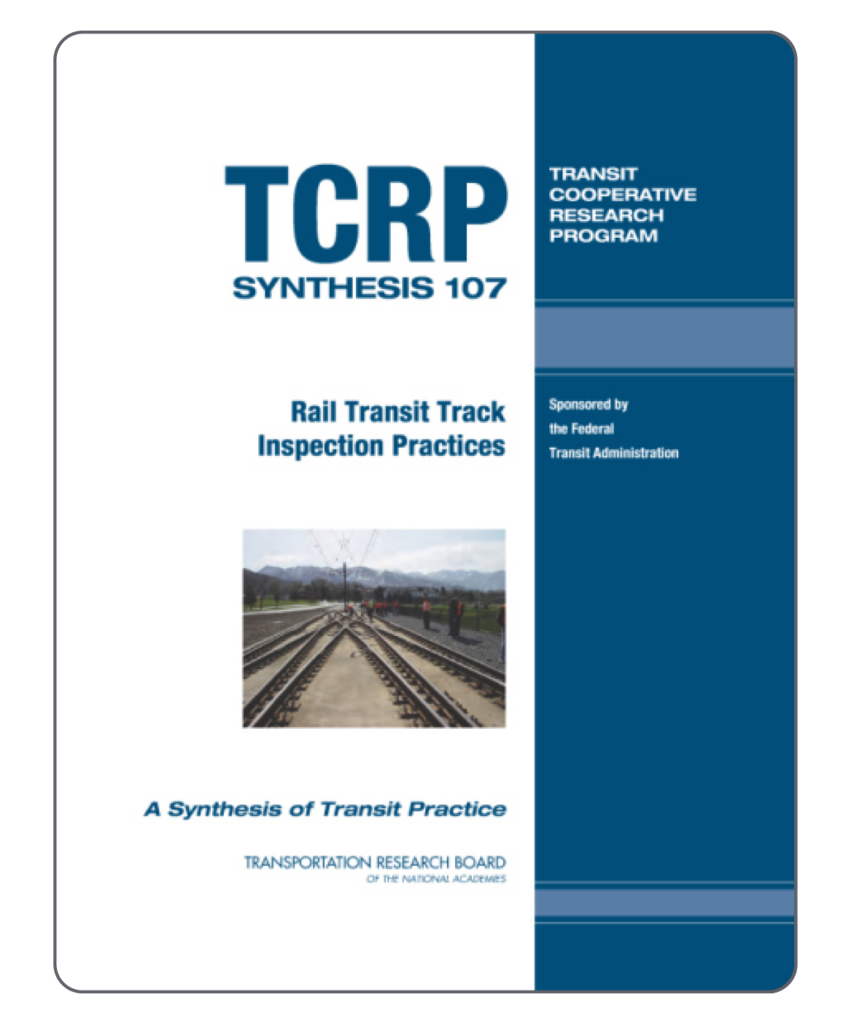 TCRP Synthesis 107: Rail Transit Track Inspection Practices
TRBs Transit Cooperative Research Program (TCRP) Synthesis 107: TCRP Synthesis 107, Rail Transit Track Inspection Practices offers information across a range of older and newer U.S. rail transit agencies on track inspection practices and policies.
Issues addressed in the report include agency staffing, agency organization and characteristics, track inspection program criteria, training and certification, procurement, and track safety practices.
Transit Cooperative Research Program (TCRP)
January 2013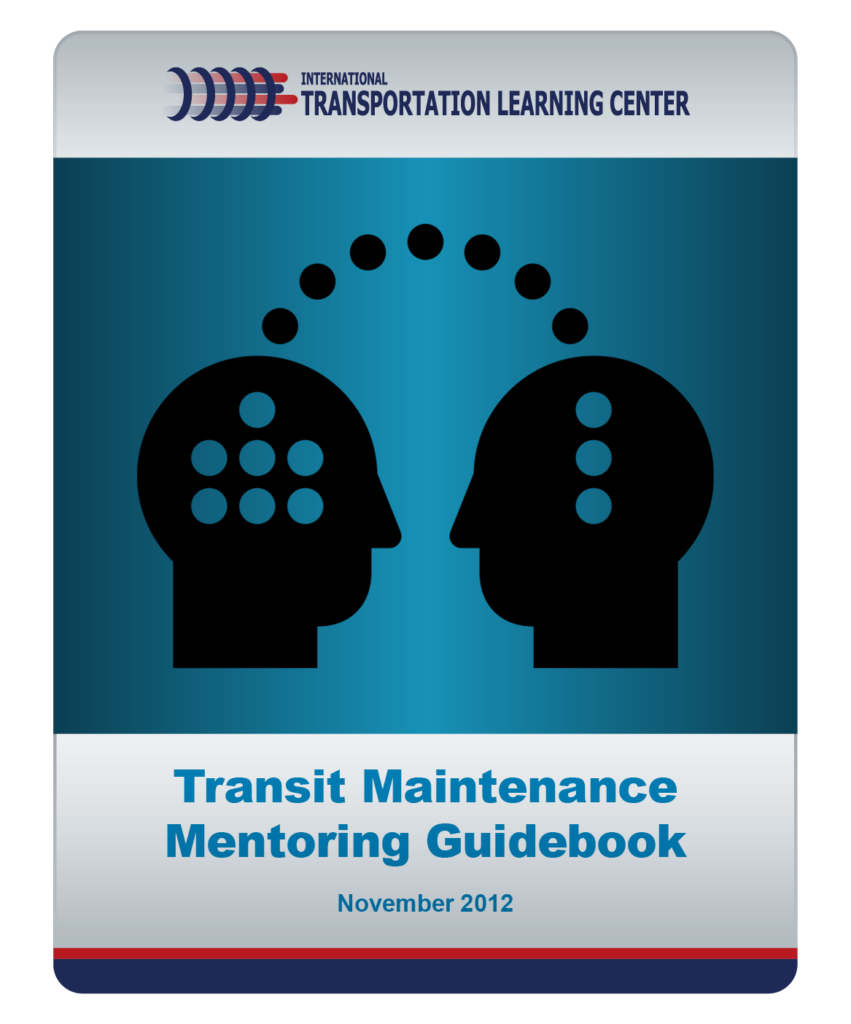 Transit Maintenance Mentoring Guidebook
The purpose of this report is to serve as a guidebook, offering information that transit agencies can use to establish mentoring as a training method with guidance, suggestions, and examples to implement or expand upon existing mentoring programs. It is based on a generic mentoring guidebook developed by the USDOT, modified and enhanced to reflect transit maintenance applications.
International Transportation Learning Center
November 2012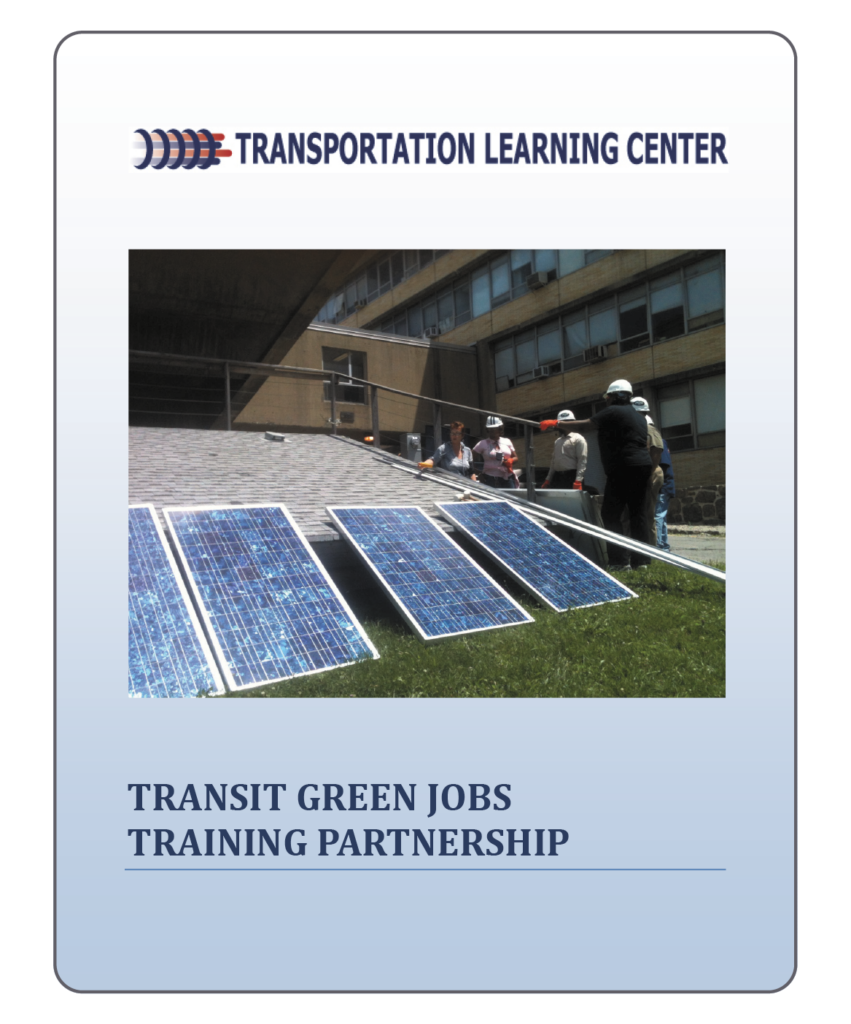 Transit Green Jobs Training Partnership
The Department of Labor selected the Transportation Learning Center as a Green Jobs funds recipient because the Center has been at the forefront of addressing the issue of insufficient training in the transit industry and building constructive partnerships between labor and management to address this critical issue. The grant succeeded in creating new training approaches and providing training to thousands of workers in key transit occupations, with a consistent focus on greening the economy and our communities.
The Green Jobs Training Partnership is built on the Center's successful model of creating and supporting labor-management partnerships to plan and deliver transit training that provides instruction based on national standards. The Partnerships plan and carry out training, to help transit employees obtain the skills they need to stay current in an industry that is ever changing.
International Transportation Learning Center
August 2012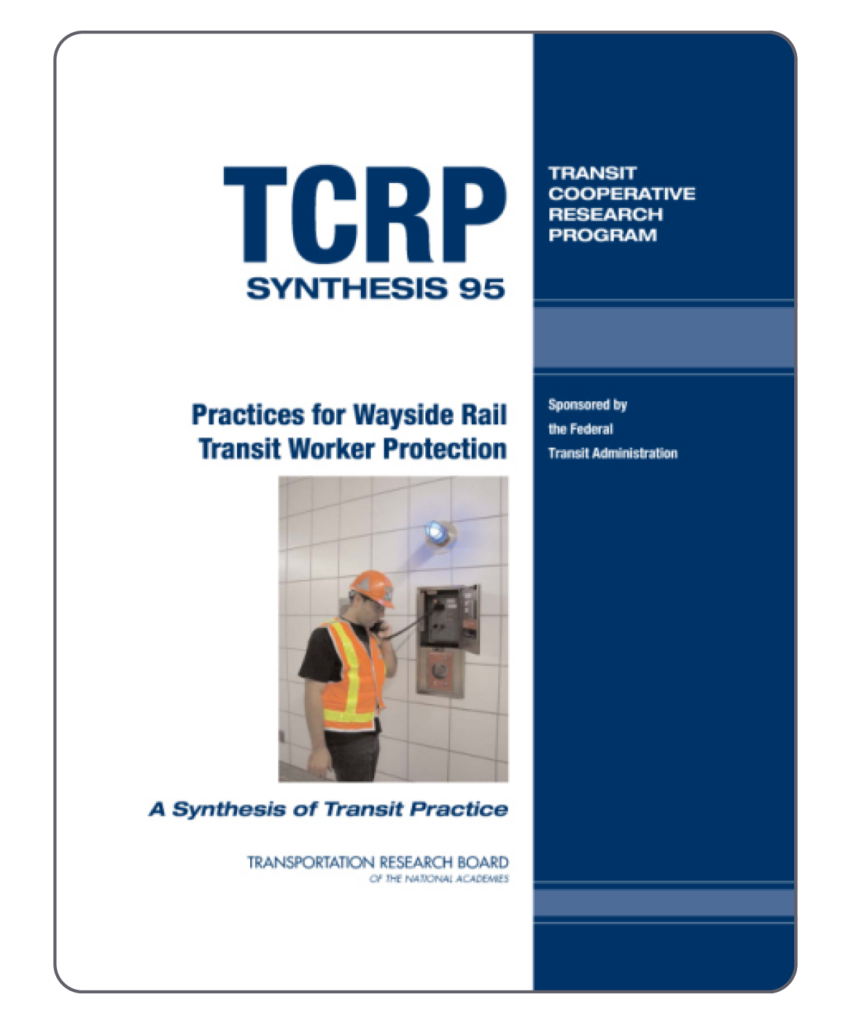 TCRP Synthesis 95: Practices for Wayside Rail Transit Worker Protection
TRB's Transit Cooperative Research Program (TCRP) Synthesis 95: Practices for Wayside Rail Transit Worker Protection is designed to highlight knowledge, practice, lessons learned, and gaps in information related to wayside rail transit worker protection programs.
Transit Cooperative Research Program (TCRP)
January 2012